Kadence and Blocksy are two lightweight and amazing WordPress themes to start a new website. However, a question might arise which one to go for. Therefore, we will be covering various aspects of both themes for a side-by-side comparison.
Both of the themes are available for free in the official theme repository of WordPress.org. Furthermore, they have an impressive 5 out of 5 ratings from users. In addition, there are more than 100,000 and 50,000 active installs of these themes, respectively.
Kadence and Blocksy are relatively new themes, and they are only a couple of years old. However, both of them have managed to get the attention of many WordPress users. Aside from that, they are feature-rich and powerful WordPress themes.
This article is all about an unbiased comparison between these two themes.
Now, let's start with the overview section first.
A) Kadence Overview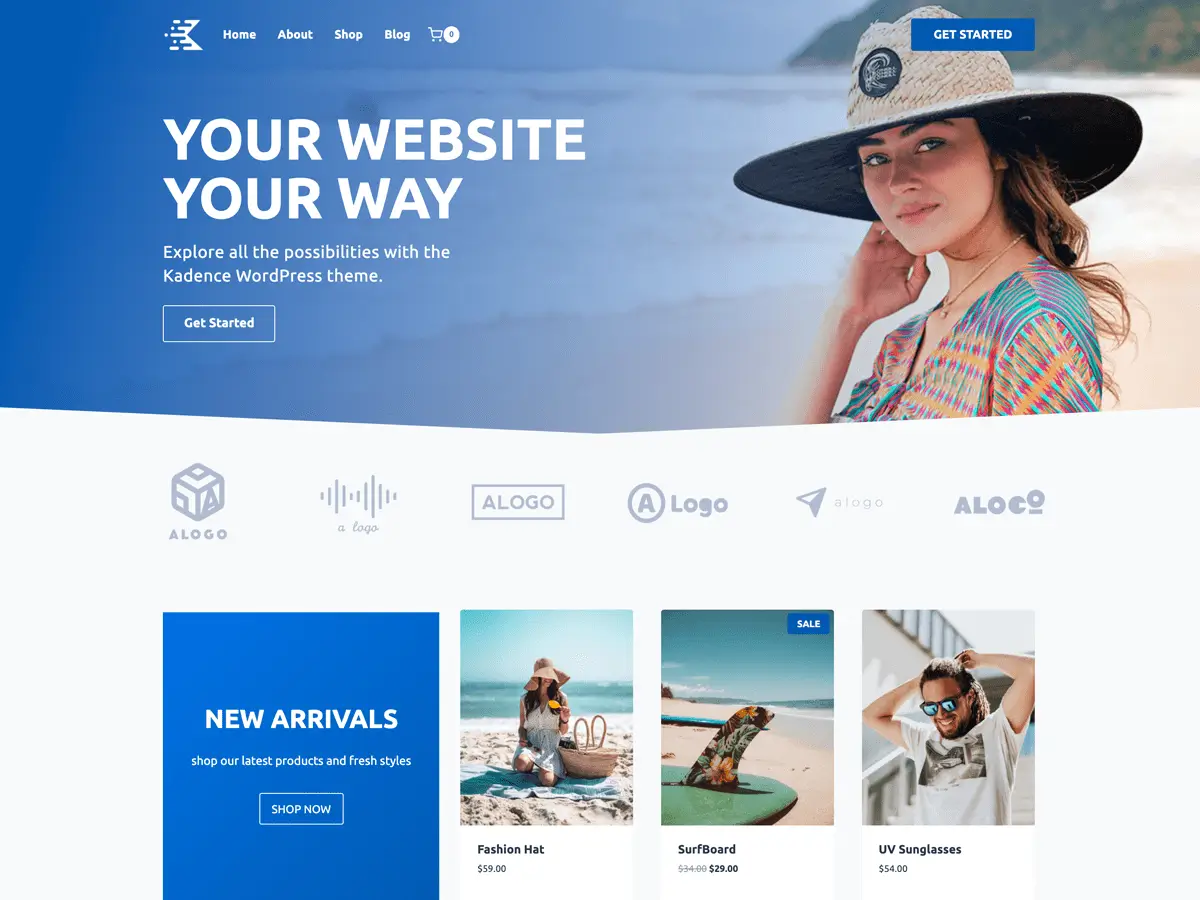 Kadence is a product of a software company with the same name. They are a Montana-based company that creates professional WordPress themes and plugins. In addition, you can find products like Kadence Blocks, Kadence Shop Kit, Kadence Slider, and more.
This theme is designed to create a beautiful WordPress website in minutes. You can find several starter templates which are ready to use. In addition, you do not have to write a single line of code to customize this theme.
Furthermore, you can create a site focusing on performance using Kadence. This theme is built with a progressive code structure for modern PHP. Aside from that, there are no heavy JavaScripts files which slow down many websites.
B) Blocksy Overview
Blocksy theme is a product of Creative Themes. Two colleagues developing themes for their clients decided to build a WordPress theme that suits all the requirements. Also, this theme integrates seamlessly with tools from the WordPress ecosystem, boosting efficiency.
This theme offers a lot of customization for website builders. You can customize the layouts, headers, sidebars, and more. Also, Blocksy is designed with Gutenberg in mind.
Moreover, this theme is eCommerce ready for your online store. Blocksy comes with full WooCommerce integrated out of the box. Also, it comes with two gallery styles to showcase your products. In addition, Ajax add to cart functionality lets your customers instantly add products.
C) Kadence vs Blocksy: In-Depth Comparison of Two Emerging WordPress Themes
Kadence and Blocksy offer most of the features required in a good WordPress theme. We'll compare the two themes based on criteria that we believe are important for any WordPress user. However, we chose six parameters to compare among several variables.
The themes are compared based on ease of use, customization options, pre-built designs, free version, price plans, and support.
Now, without further ado, let's dive into the comparisons.
1) Kadence vs Blocksy: Ease of Use
Any piece of software is as good as it's easy to use. Likewise, a good WordPress theme is considered good if easily accessible. Furthermore, WordPress themes with user-friendly interfaces and easy guides are more popular among users.
Now, let's see how accessible both themes are.
i) Ease of Use in Kadence
Building a website with Kadence is easy and intuitive. It supports popular page builders like Gutenberg, Brizy, and Beaver Builder. Also, you can import the starter sites with a single click and start customizing.
Also, you can build your website in a few minutes with three simple steps. First, select the pre-built design that you want to use. Second, you need to choose from the 12 pre-configured color palettes. And finally, your website is ready.
ii) Ease of Use in Blocksy
Like Kadence, you can start to build a website in a few simple steps. This theme is lightning fast with 100% Gutenberg compatibility. Also, this theme is translation ready which is great if you want to publish your website in multiple languages.
In addition, Blocksy is a fully responsive theme which is an excellent experience for users. You can select fonts for the website from 900+ Google fonts. Also, this theme is SEO Optimized out of the box, so you won't have to worry about search engine results.
Bottom Line: Both themes offer accessible features. Anyone new to website development can quickly get started without extensive guidance. Therefore, it's a tie between Kadence and Blocksy theme.
2) Kadence vs Blocksy: Customization Options
Customization of themes is vital to personalize your website, and it also makes your website more presentable. Therefore, customizing the look of your theme adds more personal identity to your website.
However, both Kadence and Blocksy offer tons of customization options. Let's have a look!
i) Customization Options in Kadence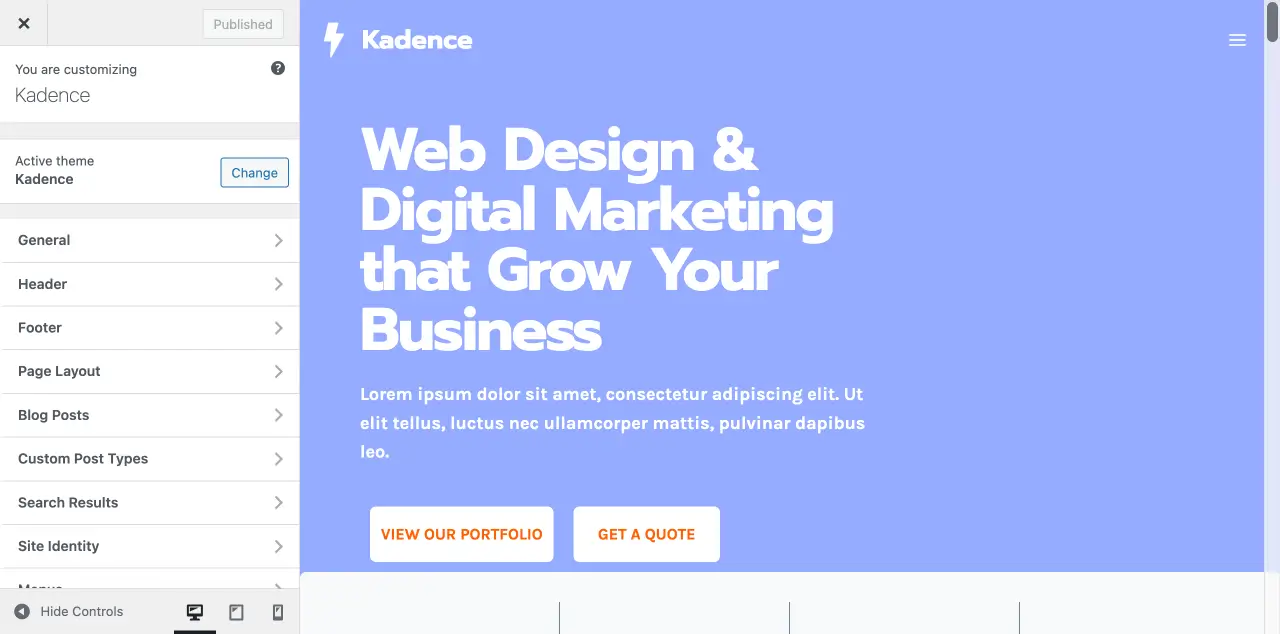 Kadence is very easy to customize and use when it comes to customizing. You can use the WordPress customizer options to change the theme's appearance.
With Kadence, you'll have tons of customization options. You can adjust everything from customizing fonts, layouts, width to the background.
Furthermore, a side panel with additional post or page options is included with the theme. It's available when you edit a page or post. Also, this panel is helpful because it allows you to pick which elements to show or hide on your website.
Moreover, you'll find a section dedicated to Kadence under Appearance > Kadence. You can access specific customization features, activate a pro subscription, view the changelog, and more from there.
ii) Customization Options in Blocksy
Blocksy theme is built up with flexibility, extensibility, and speed in mind. Also, this theme gives you the power to effortlessly change the look and functionality of your website without having to code. You can customize almost everything on the Blocksy theme.
So, to customize, log in to your WordPress dashboard, go to the Appearance menu, and click on the customization option. There you'll find the neatly organized customization options. So, for example, if you're working on a header, you'll find all you need at your fingertips without navigating to another section.
Moreover, Blocksy's customizer is designed to change the appearance of your entire website. However, most customizations are available on a per page or post basis. This means if you edit the page or post screen, you'll find the same options available, just for that particular page or post.
Bottom Line: Comparing the customization option of Kadence vs Blocksy, both offer the best customization options. So, it's a tie between them in terms of customization.
3) Kadence vs Blocksy: Pre-Built Designs
Pre-built designs or templates are a fantastic way of showcasing the theme's results. Also, it helps the developers and clients visualize what the final product will look like. Furthermore, these pre-built designs save a lot of time if you want to create a niche website.
So, let's compare the pre-built designs offered by Kadence and Blocksy.
i) Prebuilt Designs in Kadence
Kaidence offers ready-to-use starter site templates. You can customize them to get your site started. The starter templates are subdivided into various categories, and some popular template categories are Travel, Blog, Ecommerce, and Business.
ii) Prebuilt Designs in Blocksy
Like Kadence, Blocksy also has beautifully designed ready to import pre-built designs. So, with only one click, you can import these templates and start building your dream site. Moreover, there are some fantastic-looking templates named Wedding, Tasty, Travel, and many more.
Bottom Line: Kadence is the easy pick as the winner of this segment. Although both have some awesome-looking pre-built designs, Blocksy has few templates against Kadence. However, the wide array of professional-looking templates offered by Kadence certainly plays a vital role in theme purchase.
4) Kadence vs Blocksy: Free Version
When it comes to the free version, both themes offer free versions. So let's check to what extent.
i) Free Version in Kadence
Among the many free themes available, Kadence stands out as one of the best. It's not only the lightweight theme that'll speed up your website's loading time but also has many design and customization options.
Moreover, Kadence is available in both free and premium versions. You might think that the free version provides limited features. Well, that's not the case. Even the free theme is capable.
Talking about customizing, you'll find settings in 6 different sections available with the free version. For example, global colors, branding, typography, header layout, page layout, and footer layout. Click the option of your choice, and you'll reach the theme customizer with total control over settings.
Moreover, after activating Kadence, you can install a plugin with free starter templates. Using these templates will make setting your website easier and faster. Once you install the Starter Template plugin, you'll find the setting to the starter template from Appearance > Kadence > Starter Templates.
Choose the editor to get started.
Besides, Kadence also provides other features in the free version, like the Kadence Blocks plugin. This allows you to have complete control over the layout and design of your page and posts. For example, you can use row layout, tabs, table of content, advanced button, icon, icon lists, infobox, forms, and testimonial blocks with the free version.
ii) Free version in Blocksy
Similarly, Blocksy also comes in free and pro versions with more functionality than any WordPress theme. But, again, it has more free features than most commercial WordPress themes. Let's check them out!
When talking about the customization of the Blocksy theme, you'll find it quite different from any other WordPress theme. Best of all, you'll find the sun and moon option at the bottom of the customizer. This will allow you to change from light to dark mode with just a click.
Besides, there are more customization options like general, header, footer, sidebar, colors, typography, blog posts, additional CSS, etc. The list goes on even in the free version of the Blocksy theme.
Another feature that blocksy offers in the free version is a social sharing box. This is the best feature that does not come with most free themes. You can directly go into the "share box" option on single posts and display an amazing share box in different areas. Also, you can choose to display the share button at the top or bottom of the post, or both.
Moreover, with Blocksy, if you want to start with a simple website, you can get a lot of rich features for free. Trending posts module, Newsletter subscribe module, cookie notice, custom widgets, WooCommerce compatibility are just a few.
Bottom Line: Both themes offer the best features in the free version. But, with Blocksy's social sharing and more of the customization options. So our winner is the Blocksy theme.
5) Kadence vs Blocksy: Pricing Plans
Pricing plans are an essential factor to consider during theme purchase. Also, many theme developers offer discounts if you manage to purchase lifetime or agency bundles. In this section, we'll closely compare the pricing plans of both themes.
i) Pricing Plans in Kadence
Kadence offers four pricing plans to purchase the theme. Also, these plans come with a 30-day money-back guarantee with no questions asked. The pricing plans are.
Kadence Pro: For $79, you can use it on unlimited websites with one year of support and updates.
Essential Bundle: For $149, you can enjoy all the features of Kadence Pro along with Kadence Blocks and Pro Starter Templates.
Full Bundle: For $219, you'll get extra features like child theme builder, Kadence shop kit, Kadence Cloud, and more.
Lifetime Bundle: With a one-time purchase of $699, you can get everything from all the bundles with lifetime support for all future products.
ii) Pricing Plans in Blocksy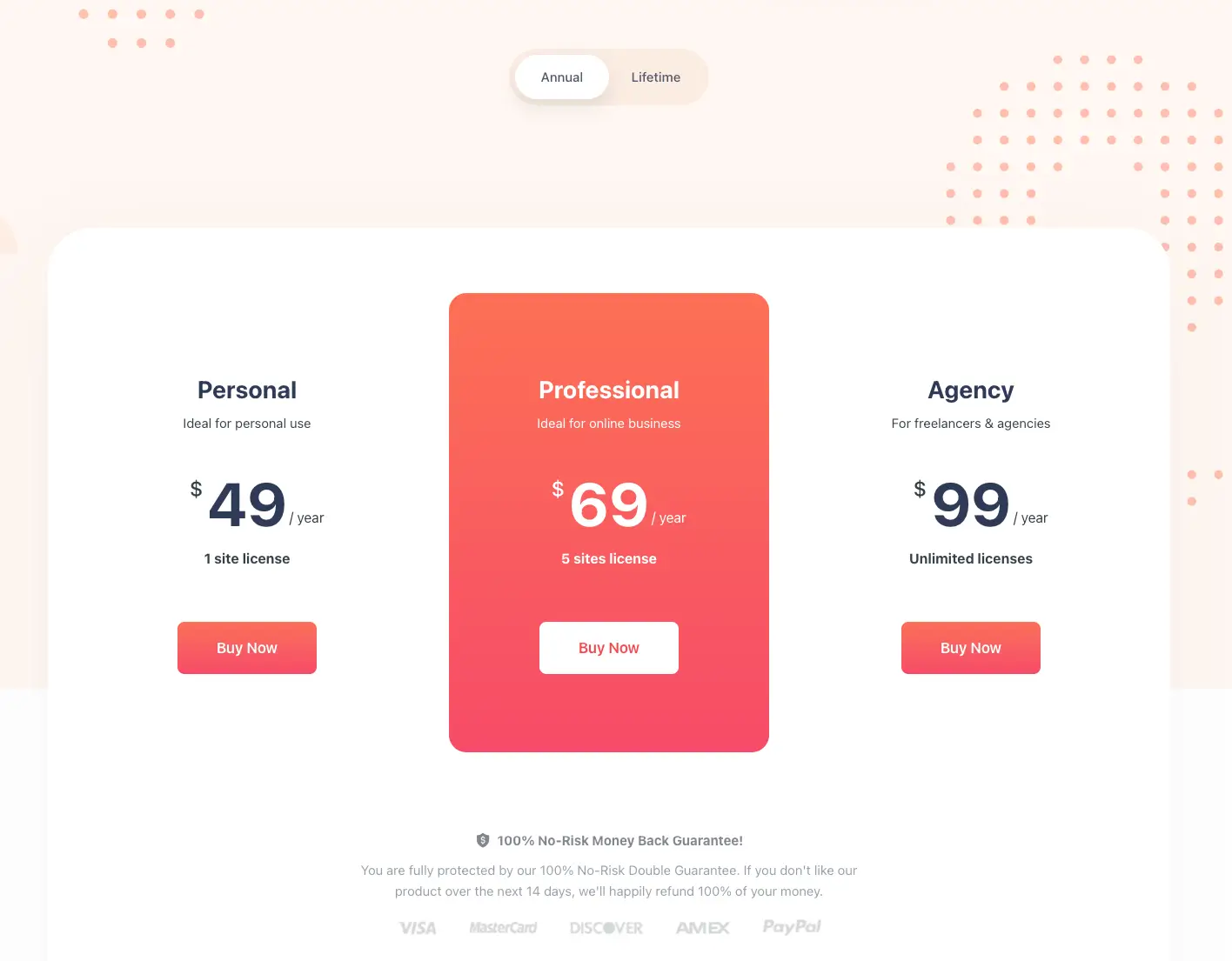 Blocksy offers two purchase plans, Annual and Lifetime. There are three tires in each plan which are given below.
The Annual plan has three tiers:
Personal: For $49, you can use the theme on a single site.
Professional: For $69, you can use the theme on 5 websites.
Agency: For $99, you can use the theme on unlimited websites.
The Lifetime plan also comes in three tiers:
Personal: For $149, you can use the theme on a single site.
Professional: For $199, you can use the theme on 5 websites.
Agency: For $299, you can use the theme on unlimited websites.
Bottom Line: Blocksy has a verified pricing plan compared to the Kadence theme. However, all the pricing plans of Kadence come with an unlimited number of websites. In our comparison, this single feature is a deal-breaker, and Kadence is the winner. In addition, the lifetime plan includes all the future products, which is excellent for long-term purchases.
6) Kadence vs Blocksy: Support
Even experienced users can get issues while developing a website on a new platform. Therefore, you'll need the best professional help when you're in this scenario to assist you in resolving your issues.
Whereas customer assistance is available with every theme, providing you with a quick response to your queries. So, you might want to know if your preferred theme provides you with prompt and adequate assistance or not.
Therefore, let's take a look at Kadence and Blocksy below.
i) Support in Kadence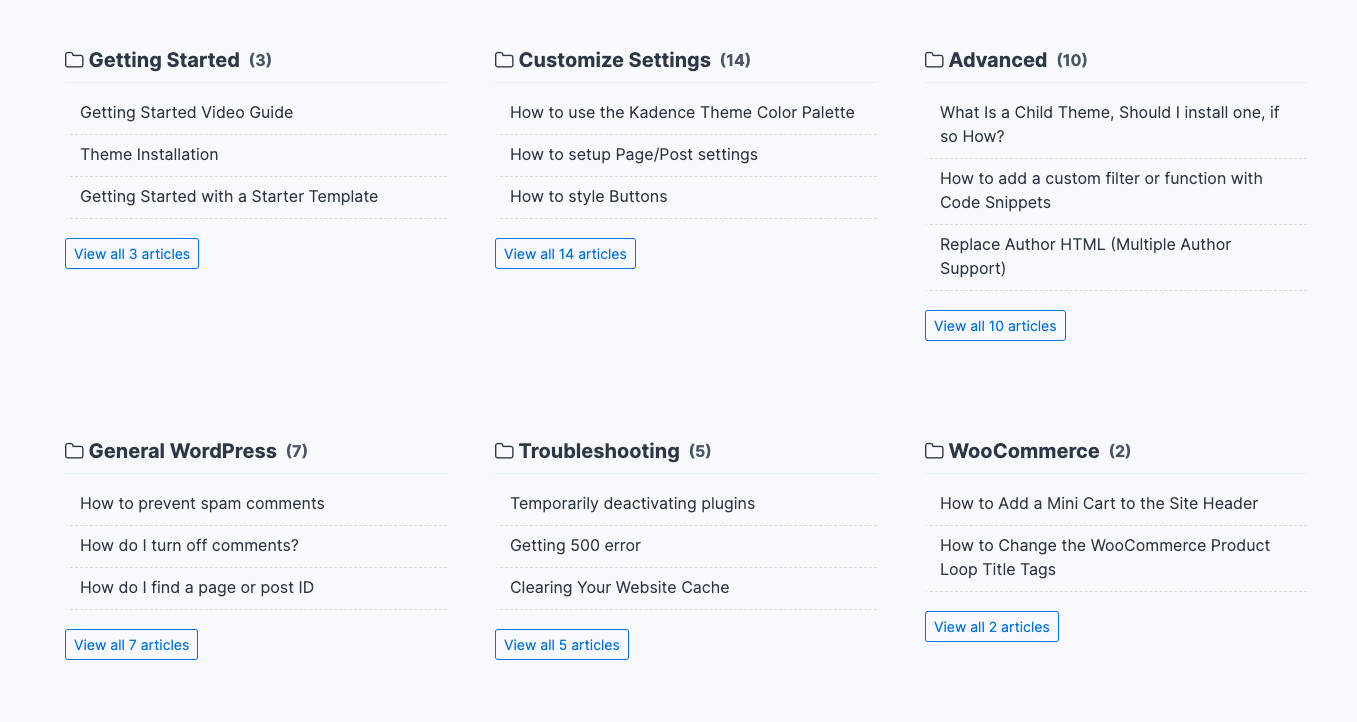 Kadence's customer service is unlike anything you've ever encountered. It's based in the United States, and they quickly grasp the situation before going above and above to assist you.
Besides, it provides customer support if you run into any issues. It has a separate Kadence help center on its official website for customer support.
There are a lot of resources, including guides and documentation articles. As a result, this makes it easier for you to use the Kadence theme and solve common difficulties quickly.
You can also get premium support, including premium tickets and community forums. However, the premium support ticker is only for premium users. Log in to the ticket form and add your ticket to submit your queries through premium support tickets.
ii) Support in Blocksy
Similarly, Blocksy covers all you need in customer support in one place. First, go to their official website and click support from the help menu. After that, you'll get a thorough list of everything available.
If you go to the knowledge base, you'll find the documentation on everything you need to get started with the Blocksy theme. You'll also find many articles on how to customize the appearance of your website without touching a line of code.
Moreover, you can also go through the video tutorials that explain managing CPTs with blocksy, personalizing 404 pages, etc.
Besides, you can submit a ticket regarding your issues. And you'll get the answer in an average of 24 hours. But most of the time, the Blocksy support team responds in 2-3 hours.
Bottom Line: Both themes have a great support system for their customers. They have proper documentation on their themes, along with video tutorials and discussion forums. Therefore, it's a tie between both themes in case of support.
D) Kadence vs Blocksy: Pros and Cons
Even though both are the best themes for WordPress websites, there can still be some pros and cons. So, let's look at them below.
i) Pros and Cons of Kadence
Pros
Offers globally linked color palette.
Comes with a drag-and-drop header and footer builder.
Many unique starter templates.
Full integration with LearnDash and LifterLMS.
Kadence is a lightweight and speed-optimized WordPress theme.
Cons
Not so many starter templates niches.
Need more detailed documentation.
ii) Pros and Cons of Blocksy
Pros
Easy to use, user-friendly, and highly customizable.
Provides header and footer builder in the free version.
It's excellent with Gutenberg and other page builders.
Completely integrates with WooCommerce.
Cons
Comes with limited starter templates.
E) Conclusion
Here we are now at the end of the article. We hope this article will help you know the difference between Kadence vs Blocksy WordPress Theme.
We are open to feedback if you're already using any of the themes. Also, you can check our other articles on the Astra vs OceanWP theme and best WordPress table of contents plugins.
Be sure to follow us on Facebook and Twitter. Also, subscribe to our Youtube channel for WordPress videos.