Are you searching for a genuine comparison between WooCommerce and Shopify? If yes, then you're in the right place. This article consists of an in-depth comparison of these two online store-building platforms.
We live in an age where we want instant access, not only to digital services but also to our day-to-day products. The products can range from our evening snacks to our monthly groceries; we all want them on our doorsteps. For that level of convenience, business owners need an online store.
An online store is the best way to expand your existing business or start a new one. Also, an online store has plenty of advantages over any business practice. As a result, eCommerce websites are becoming popular day by day.
A. Benefits of Having An Online Store
Now, we'll look into the benefits of having an online store.
i. Ease of Use
An online store is easy to use, like any other regular website. For first-time users, the learning curve is simple. You'll have complete control of your store from one place to make instant changes. In addition, you can manage things like inventory and customer support.
ii. Inventory Management
Inventory management is one of the confusing and time-consuming tasks in a store. The online store helps you manage the inventory with ease. Also, you can count all the items in the stock, add new items, get a notification if the stock is low, and many more.
iii. Scalable
Like any other business, your online store must be scalable. Expanding your physical store costs a lot of money for adding shelves, staff, and new items. On the contrary, an online store can be scaled with ease. You just need to add new pages, categories, items, and visitor capacity. However, you would need to invest in adding storage and memory to your website.
iv. Cost-Effective
Running an online business is cost-effective compared to any other business. For example, you can save a lot on rent, staff wages, and interiors. Also, you can run an online store from your home. In addition, you can easily change the look and feel of your store with minimum investment, like in the cost of a theme.
v. Digital Marketing
Promoting your store is easier than ever. You can take the help of digital marketing strategies like Google Ads, Blogs, Paid reviews, and many more. Also, email marketing is an excellent digital marketing technique to boost visitors and increase your site's conversion.
vi. Design and Customization
User interface and user experience are essential for any website. The look and feel of the website can encourage customers to order products. You can get help with themes and extensions to make the online store attractive and functional. Additionally, you can hire web developers to develop a custom website for excellent performance.
vii. Security
Data is very sensitive in the digital world. We've heard many stories of data leaks from companies. Also, data security must be kept a priority in the case of eCommerce, as you've information about the customers like address, phone numbers, and emails.
Ecommerce websites can be equipped with a firewall and SSL to prevent unwanted access. In addition, a secured website helps build trust with the customers for future business.
1. WooCommerce vs Shopify: Overview
i. WooCommerce Overview
WooCommerce is an open-source platform based on WordPress. WordPress is the most popular website building platform, with a market share of more than 42% of all hosted websites worldwide. The platform has gained popularity since it was launched in 2011.
Currently, WooCommerce is the most popular online store-building platform, with millions of active users. In addition, you get a 30-day money-back guarantee if you're unsatisfied with the service.
You can start building your WooCommerce website by installing its plugin in WordPress. Also, you can use the platform for free. However, depending on the developers, you might have to pay for the third-party extensions.
ii. Shopify Overview
Shopify is another popular eCommerce building platform launched in 2006. They have over a million active users. Unlike WooCommerce, Shopify is not free; you'll have to pay a monthly subscription fee to use the platform. However, you can get a trial period of 14 days without giving credit card details.
The platform helps you manage and market your products on a global scale. Clients in over 175 countries use Shopify to sell their products. In addition, you can take the help of 6000+ apps that directly integrate with your online store.
Shopify provides an all-in-one solution for running an online store. You can build an online store easily without any technical skills. However, if you're not confident enough, you can hire a trusted Shopify Expert. In addition, you don't have to worry about hosting, domain name, or the website's security.
2. WooCommerce vs Shopify: Usability
Let's talk about the usability of the platforms. In this section, we'll look into the ease of use and user experience while running the online store, maintaining websites, updates, and more.
i. WooCommerce Usability
WooCommerce is easy to use. Anyone who knows how to use WordPress can easily adapt to using WooCommerce. However, it might be difficult for users who are complete beginners to WordPress. The setup process can be overwhelming for newbies. You can follow this article for the pros and cons of WordPress.
WooCommerce is not a self-hosting platform. Therefore, you need to purchase the domain and hosting for your website separately. In addition, you might have to deal with themes and extensions while building your online store. However, the setup wizard is easy to use; with a single click install, you can prepare the site with basic functionalities.
ii. Shopify Usability
On the other hand, Shopify is easier to use than WooCommerce. Since this is a self-hosted platform, you won't have to worry about managing the domain and hosting. Also, you can create an online store with minimum technical skills. Therefore, you can focus more on improving your online store.
Additionally, Shopify comes with an easy dashboard; even a non-tech person can use it easily. It helps you navigate your website's dashboard and add product information, images, prices, etc. You'll also find guides on how to customize your online store.
Unlike WooCommerce, you can pick a domain name and theme with Shopify and start to build your eCommerce. Also, Shopify comes with hosting storage, SSL, and many more. It also takes care of your website's backup, security, and updates.
3. WooCommerce vs Shopify: Pricing
The first thing everyone wants to know is how much it will cost you to make a website! So let's check it out.
i. WooCommerce Pricing
While talking about WooCommerce pricing, it's a completely free platform. Therefore, you can easily download and start your website as per your desire.
However, WooCommerce will not host your website, and you'll not get any domain name. So you'll need to look for a hosting and domain registrar that'll cost anywhere around $5 to $100 monthly. In addition, you'll need to pay extra for a domain name, just like any other website.
Summing up, WooCommerce can be pretty expensive when buying all these from third parties. Additionally, if you get these from different companies, they will get more expensive. Luckily, some companies provide both hosting and domain. So, choose the one that best suits your requirements.
ii. Shopify Pricing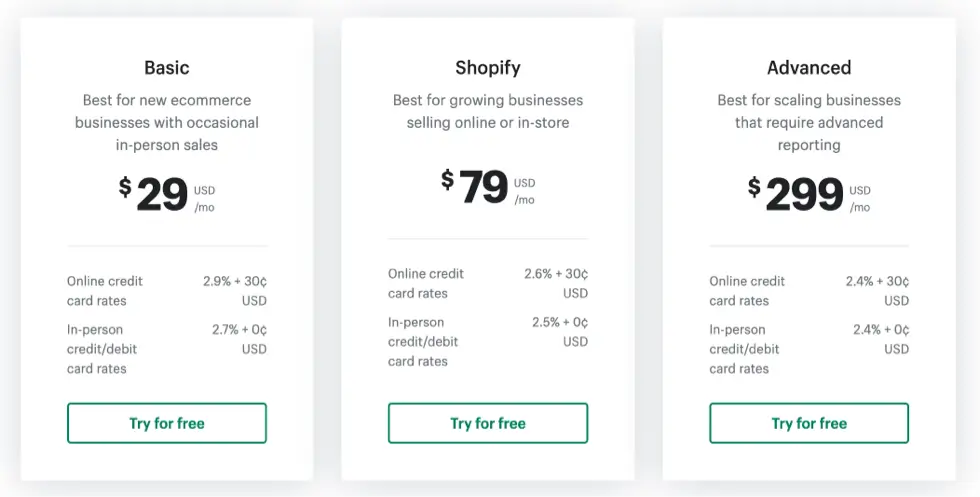 On the other hand, Shopify comes with 3 pricing plans.
Basic: $29 per month, this plan is best for new eCommerce businesses with occasional in-person sales. The online credit card rate is 2.9%, and the in-person credit card or debit card rate is 2.7%.
Shopify: $79 per month, this plan is best for growing businesses selling online or in-store. In addition, the rates in this package are 2.6% on an online credit card and 2.5% on in-person credit or debit card.
Advanced: $299 per month, this is best for scaling businesses that require advanced reporting. The additional rate is 2.4% on online credit cards and 2.4% on in-person credit and debit cards.
Additionally, all the pricing plans include an eCommerce website and blog, unlimited products, and staff accounts. Also, you'll get 24/7 support, sales channels, discount codes, free SSL certificates, manual order creations, and more.
4. WooCommerce vs Shopify: Functionality
Regarding eCommerce functions, both Shopify and WooCommerce provide robust features for your online store. Let's check some of them.
i. WooCommerce Functionality
Woocommerce comes with several in-built eCommerce functions. You can also add extra eCommerce features as per your website's needs.
Some of the essential features of WooCommerce are:
It allows you to accept payment through major credit cards, bank transfers, checks, and cash on delivery.
Integrates well with other payment gateways like Stripe, PayPal, Square, Amazon Pay, Apple Pay, etc.
It also has an automated tax calculation feature.
Sell anything from physical products to digital content.
Boost sales by listing products on Google Shopping.
Promote your store on Facebook, Mailchimp or other platforms.
Track your report on your marketing with Google Analytics.
Make your online store available in multilingual content and prices in multiple currencies.
Jetpack helps to secure your website from spam, brute force attacks, and authenticated customer logins.
WooCommerce is an open-source platform where you have complete ownership of your store.
Select and showcase your product in a modular way with WooCommerce Blocks.
ii. Shopify Functionality
Similarly, Shopify offers amazing in-built eCommerce tools. They are:
Includes a built-in mobile eCommerce shopping cart.
Get full access to the HTML and CSS of your online store.
You can use your domain name or purchase from Shopify.
It comes with a web-based website builder to host your website on Shopify.
You'll get a free 256-bit SSL certificate.
It also comes with automatic carrier shipping rates from major carriers like UPS, USPS, and FedEx.
Easily accept Visa, Mastercard, Discover, and American Express with Shopify.
Shopify integrates with over 100 external payment gateways like PayPal, iDEAL, etc.
It also integrates with apps like Ordono, Inventory Source, and eCornHub to set up your dropshipping business.
Allows you to categorize customer lists as per their location, purchase history, and many more.
Export reports in your spreadsheet tool or can be sent to your bookkeeper or accountant.
5. WooCommerce vs Shopify: Pros and Cons
Here we will look at all the pros and cons of WooCommers vs Shopify.
i. WooCommerce Pros
Open source and free platform
Built on WordPress
Fully customizable
Fast website development and deployment
Easy to scale
Tons of attractive themes
Large community
Mobile application
Tons of extensions
Easily integrates with other platforms
Easy-to-use interface
Regular updates
ii. WooCommerce Cons
The complex setup process for beginners
Dependency on third-party plugins
Less secure if not configured and managed properly
iii. Shopify Pros
All in one online store solution
In-built SEO and marketing
Easy-to-use interface
Integrates over 6000 apps
Powerful analytics and insights
Regular updates
Excellent customer support
Credit card free 14 days trial
iv. Shopify Cons
Lack of any free versions
Expensive themes and apps
6. WooCommerce vs Shopify: Website Migration
You might want to migrate your website as part of a business decision. Also, many users migrate their online store in search of extra features that another platform provides. In this section, we'll talk about website migration in WooCommerce and Shopify.
i. WooCommerce Website Migration
If you want to migrate your website to WooCommerce, there are three ways to do so. The first method is to migrate your website manually. This means you will export all your data, including products, orders, users, customers info, etc. from your existing website to WooCommerce.
However, migrating a website manually can be a real hassle. So, we'll talk about the second method of migrating: using a migration tool. Using these tools, you can successfully migrate your website's data to WooCommerce.
The third method of migrating your website to WooCommerce is hiring an expert. This is the safest way to migrate your website. With an expert, you'll have your website ready to launch on the WooCommerce platform in minimum time and without any problem.
ii. Shopify Website Migration
Are you using a different platform for your online store and want to migrate to Shopify? You can easily migrate your website to Shopify either manually, by hiring an expert, or by using a migrational tool.
If you are doing it manually, you need to make sure that all your data is transferred to Shopify. So before migrating a website, there are things you need to consider.
Or you can hire a Shopify expert to help you migrate your website to Shopify. This way, you don't need to worry about all the backups and data loss. A Shopify expert will take care of all your website's data. However, hiring an expert can cost you a lot. It's an expensive process but a reliable one.
Another way to migrate your website to Shopify is by using a migration tool like the Transporter app and command-line tool. But this method is available for Shopify Plus Merchant only. In order to be a Shopify Plus Merchant, you need to pay the starting price of $2000 per month. This fee can get higher as per the business volume.
7. WooCommerce vs Shopify: Themes And Extension
While creating an online store, the first thing you need to consider is the design. A professionally created website will attract visitors and convert them to customers. In comparison, both WooCommerce and Shopify come with tons of design and customization possibilities. Let's check them below.
i. WooCommerce Themes And Extensions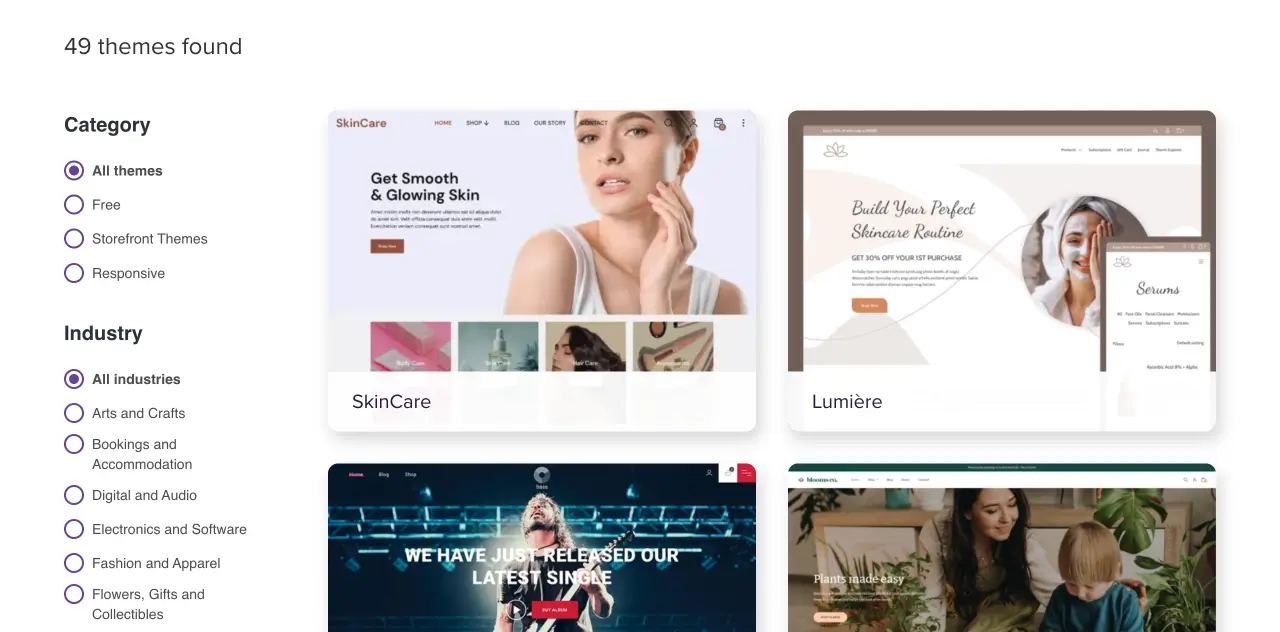 When it comes to themes, WooCommerce comes with a library of them. WooCommerce offers 49 unique themes you can choose for your store. Moreover, you don't need to go through all of them. Because WooCommerce will suggest a suitable theme based on your preferences while installing WooCommerce.
Additionally, if you go through the WooCommerce theme store, you can find categories of themes from industry to arts, pets, etc. Besides, there are other categories like, "Storefront Theme", "Responsive", and "Free".
The best part is that you can customize all the available themes in the WooCommerce theme store. You can easily customize its layouts, navigation, social media integration, etc. Also, you can easily change your theme, but you may lose some of your content. However, if you follow WoCommerce's guidelines before changing your theme, you can prevent the loss.

Likewise, WooCommerce is one of the best platforms as it integrates with third-party WordPress plugins. If you check their extension store, you'll find hundreds of free and paid WooCommerce extensions to grow your business. You'll also find extensions developed by the WooCommerce team and third-party developers.
Besides, choosing the extension developed by the WooCommerce team is the best option. Because they are flexible and dependable. However, you'll have to pay for some of the extensions. WooCommerce fully integrates with WordPress SEO plugins like Yoast, Rank Math and AIO SEO. Using this, you can easily improve your website's SEO.
Additionally, there are thousands of WooCommerce themes and plugins available on platforms like official WordPress themes and plugins directories, Envato (ThemeForest and CodeCanyon), Mojo Marketplace, Creative Market, etc besides the official WooCommerce website.
ii. Shopify Themes And Extensions
While talking about Shopify themes, it offers 99+ professional themes for now with free and premium versions. Also, Shopify allows you to filter the themes according to their OS version, product number, layout style, etc. However, the premium theme starts from $180, which is quite expensive. But you can stick with the free theme if you are low on budget.
Moreover, these themes are fully responsive and come with many customization options.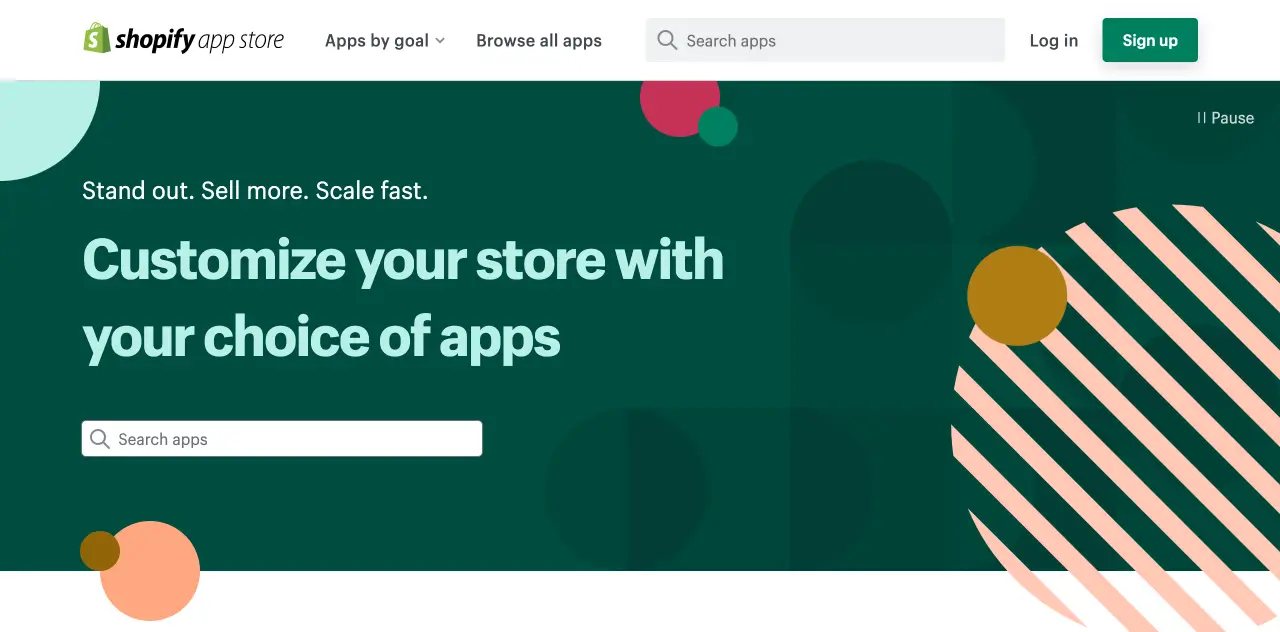 Additionally, when it comes to growing your business, Shopify offers more than 6000 apps. You can use these apps to sell your product in various ways.
Also, all the apps are displayed in categories like store design, marketing, etc. Moreover, Shopify offers apps that are made by Shopify itself as well as apps developed by third-party. So you can browse and choose the apps that suit your online store's needs.
Like WooCommerce themes and plugins, Shopify themes and apps are also available on third-party platforms (other than the official Shopify website) like Envato, TemplateMonster, Creative Market, etc.
8. WooCommerce vs Shopify: Support
Customer support is vital for any company because your online store can go through some technical issues. Let's look into the customer support offered by WooCommerce and Shopify.
i. WooCommerce Support
WooCommerce is an open source platform; it does not provide dedicated customer support. They offer documentation that covers most of the information about WooCommerce. Also, you'll need to rely on their forums, blogs, and online articles for more help. In addition, there is a huge community on the platform where you can get help from other users.
ii. Shopify Support
Unlike WooCommerce, Shopify offers 24/7 support to its customers. Also, you can join its community and start connecting with brands. You can also ask questions, join conversations around popular topics, and find solutions to the most common issues.
Moreover, it also has a documentation option, where you'll find information about Shopify apps, themes, storefronts, and the marketplace.
B. Final Verdict
Until now, you must have known that both WooCommerce and Shopify are powerful platforms for building an online store. However, with the in-depth comparison of different aspects, we are more clear about their functionalities.
While looking at the usability factor, both are easy-to-use platforms. However, Shopify has a slight upper hand due to the all-in-one solution. You don't have to deal with any third parties.
You can fully operate an online store in WooCommerce without any cost. However, you'll need to pay to third-parties for hosting and domain services. On the other hand, Shopify has fixed subscription fees which may not be cost effective compared to WooCommerce.
Similarly, when talking about functionality, WooCommerce offers endless extensions due to its large user base, community, and developers. In contrast, Shopify offers fewer extensions compared to WooCommerce.
Moreover, you'll get excellent dedicated customer support from Shopify experts. This is along with all the documentation, guides, and forums. However, in WooCommerce, you'll have to completely depend on their documentation and other online resources to solve any issues. Unfortunately, they are open-source platforms and don't provide dedicated customer support.
To sum up, if you're a beginner with less technical knowledge, you can use Shopify. You'll get a hassle-free experience while running your online store. However, if you want extensive customization, scalability, and control over your online store, then WooCommerce is the one for you.
C. Conclusion
Here we are at the end of the article. We hope to have explained both platforms in detail for your convenience. Also, you can choose the platform to move forward with after reading the article.
In addition, we are open to feedback of any sort, so feel free to leave yours in the comment section below. In addition, you can share your experiences.
We have multiple WordPress articles in our blog section. Also, check out our other comparison article on Kadence vs Blocksy and Astra vs OceanWP WordPress themes. Last but not least, check 8 Quick WooCommerce Tips and Tricks to make your online store more effective.
Make sure to follow us on Facebook and Twitter. Also, subscribe to our Youtube channel for WordPress videos.