WordPress is an awesome platform to build your website, whether it's a personal blog, eCommerce, or online education. More than 42% of the active websites worldwide are made in WordPress.
With this huge userbase, the work needed to be done is endless. People constantly search for help creating, maintaining, optimizing, and solving issues in their WordPress websites. Hence, WordPress maintenance and support services exist.
In this article, we will be discussing the best WordPress maintenance and support services available for you in 2023. We have selected the seven service providers along with their key features and pricing. Also, we have covered the need for WordPress maintenance and support services.
So, without further delay, let's get started.
A. Why Do You Need WordPress Maintenance and Support Services?
WordPress is an easy-to-use CMS (Content Management System) that helps users build and publish different types of websites. Also, users without core technical skills can understand and use the platform in no time.
However, the number of choices like themes and plugins is enormous. The huge array of added functionalities can be overwhelming and confusing for new users. In addition, there is the possibility of conflicts due to multiple plugins resulting in a poorly performing WordPress website.
i. Site Optimization
Everyone wants their WordPress website to perform in the best way possible. A slow-loading website has a high bounce rate, i.e., visitors leave the website without staying long. In addition, buggy extensions can slow down the website significantly. So, for an optimized website, select a responsive and lightweight theme with good reviews.
There are more things to do. For example, you can optimize the WordPress website by removing unnecessary extensions. In addition, tools like Google Page Speed, GTmetrix, etc provide detailed reports on your site performance. A WordPress maintenance and support service provider performs these tasks for you.
ii. SEO
SEO is crucial for any kind of website. The SEO of a website determines its visibility in the search results. Therefore, a higher ranking provides a lot of benefits to a website. Also, a good SEO is beneficial for business-oriented websites like eCommerce, online education, subscription services, and more.
You can rely on the service provider to take care of your website's SEO. Furthermore, a higher ranking helps reach your WordPress website on a global scale to a larger audience, increasing sales possibility.
iii. Updates
Updating core WordPress and the third-party extensions might create issues on your website. A WordPress maintenance and support service provider will regularly check for WordPress or third-party updates and resolve any kind of conflicts. This ensures the proper functioning of your website.
iv. Security
WordPress websites are one of the common targets for hackers due to their popularity. Countless spammers and bots are searching for vulnerable WordPress websites. Hence, you need to secure your website from all possible tampering. You don't want the sensitive information of your visitors or customers to be misused.
These platforms help you secure your website via penetration testing and regular security audits. In addition, they will install the up to date firewalls and security certificates to secure your WordPress website.
v. Analytics
Data is everything, and it is the most valuable resource right now. You can learn a lot about visitors' behaviors by analyzing the data. Furthermore, you can target potential customers by adding services or products according to the majority of visitors' demands. As a result, you can run marketing campaigns based on the data.
Different data analytics tools can help you manage and fruitfully use your data. In addition, the service providers can assist significantly in this task. They'll provide you with a detailed analytical report. Also, they will provide feedback and suggestions on your website's growth strategy.
Now, let's dive into the Best WordPress Maintenance and Support Services you can get in 2023 without further ado.
WP Buffs is a popular WordPress website management and support service provider. They provide 24/7 website edits, emergency support, ongoing security, weekly updates, and more.
Moreover, this platform specializes in speed optimization for WordPress websites. It offers lossless compression image optimization with high quality. Also, it minifies Javascript and CSS and enables Gzip compression from your server or where your data are delivered.
Key Features
Get 24/7 website edits
Managed WordPress speed optimization
Regularly updates and saves the latest version of your website
Weekly reports of your WordPress website
White-label plans for agencies and freelancers
Up to 30 days backup history with automated daily backups
Pricing
There are five pricing plans in WordPress care plans and maintenance and packages. The price listed below is from annual plans, and they are:
Maintain: $66 per month
Protect: $133 per month
Perform: $183 per month
Custom: $290 per month
Custom Pro: $373 per month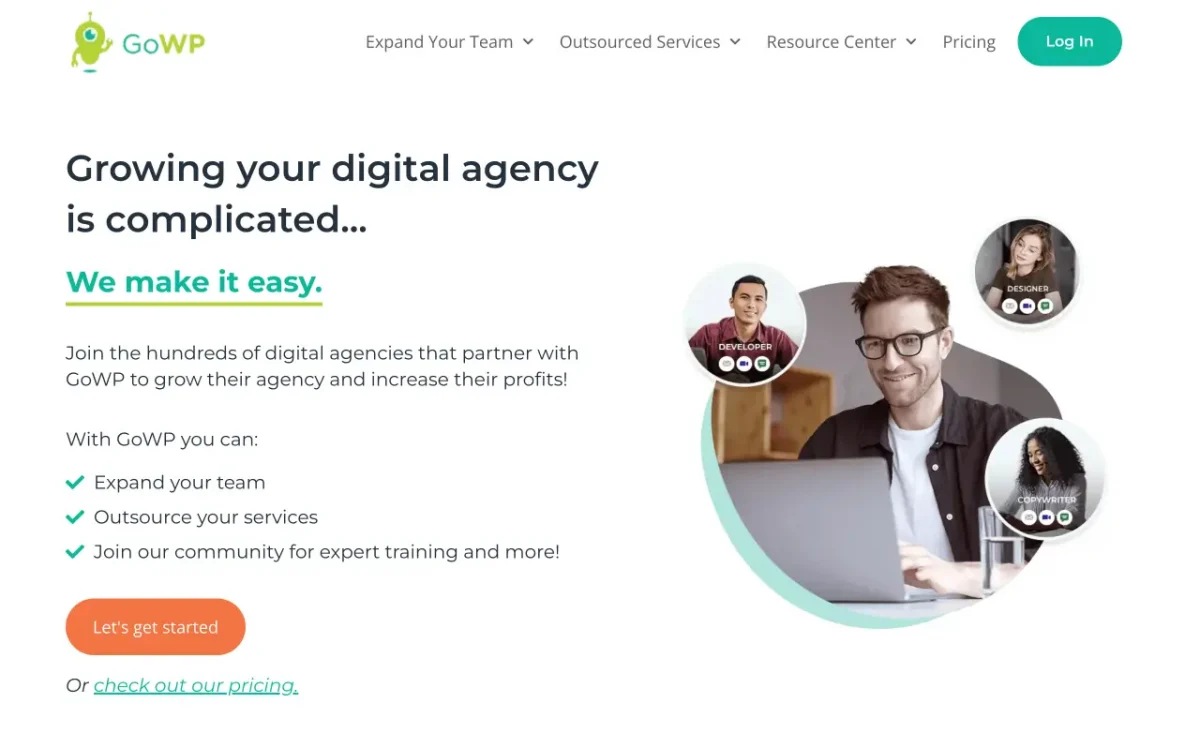 GoWP is one of the market's best WordPress website maintenance service providers. With GoWP, you can expand your team and join the Go WP community for expert training.
Whether you want to bring a new team member or looking to outsource work, Go WP has got you covered. For instance, you can easily hire a GoWP dedicated developer or schedule a call to learn more.
Key Features
Hire a team to build unlimited pages
Get daily progress reports
Dedicated account manager
At least two hours of daily developing time
Updates plugin with Visual Validator
Security monitoring and malware cleanup
Get notification when your task is done
Pricing
GoWP offers four monthly pricing plans, they are:
Dedicated Developers: $1299 per month
Dedicated VA: $1099 per month
Dedicated Copywriter: $1299 per month
Dedicated Designer: $1299 per month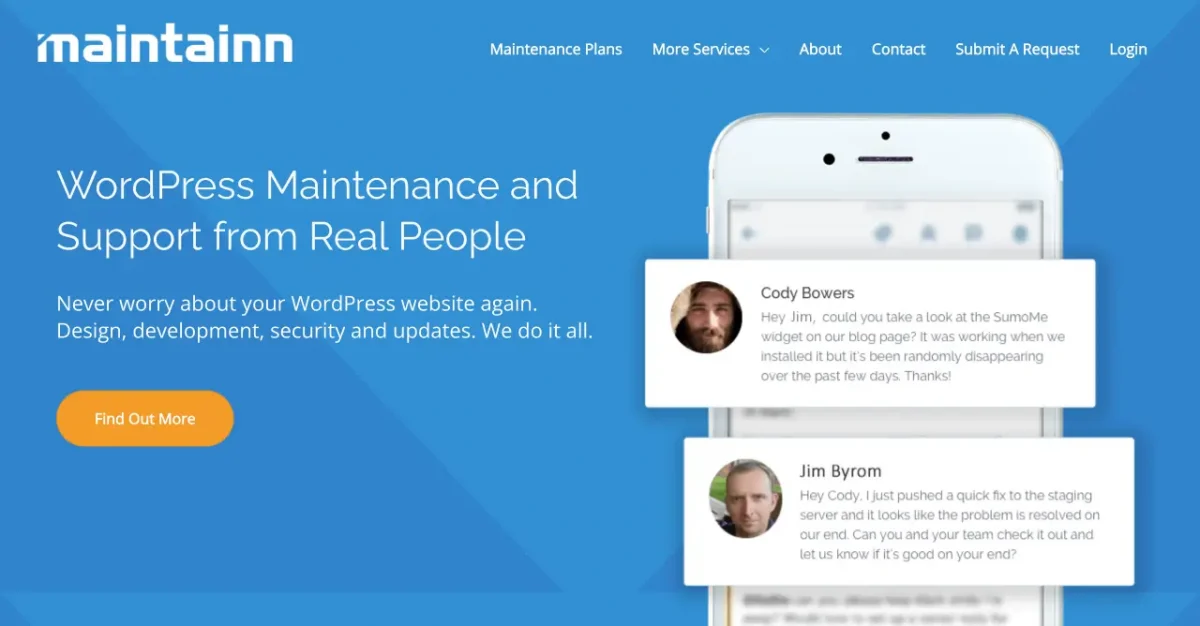 Maintainn is a WordPress all-in-one solution that provides design, development, maintenance, and support services. They are one of the oldest WordPress maintenance service providers.
In addition, they have partnered up with popular WordPress hosting providers, themes, and plugin development companies. Also, they have an expert team on WordPress core.
Key Features
Complete data migration of website by experts
Website daily backups, including offsite
Contract less billing and pricing plans
Can handle large-scale custom development requests
Weekly updates of WordPress core, themes, and plugins
24/7 security and monitoring with a trusted security partner
Pricing
There are three pricing plans in the monthly subscription of Maintainn. They are as follows:
Standard: $59 per month
Professional: $179 per month
Enterprise: $299 per month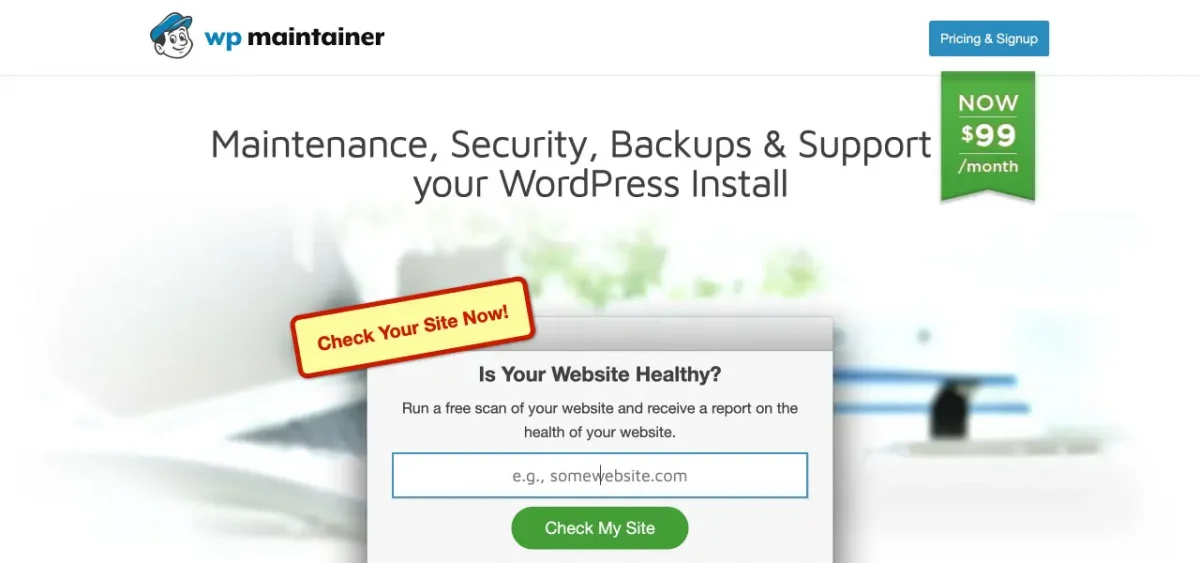 WP Maintainer is maintenance, security, backups, and support provider. For example, if your WordPress theme or plugin is broken, WP Maintainer provides you with a 1-hour compatibility checkup. During the process, if they can fix it, they'll set it to the latest update. Also, they will contact you with the recommendations if they can't fix it.
Key Features
Safely updates WordPress plugins and themes
On-site or off-site WordPress website backups
Malware monitoring and clean up
Free WordPress migration
Monthly site customization
Sucuri security monitoring and cleanup
Pricing
WP Maintainer comes with $99 per month if you want to get started. All you need to do is sign up and get started immediately.
WP Tangerine is one of the popular platforms to get unlimited expert support for WordPress and WooCommerce. It also provides support for development, website design, graphic design, etc.
You can also tell the experts if you want to add any new features to your website. They also provide the transition from old to new websites quickly. Therefore, you can easily get a website of your desire.
Key Features
Dedicated web designer to make your website more attractive
Handles digital graphics needs like logos, banners, icons, and more
Identifies and fixing of broken pages of your website
Daily updates and attentive service
Helps to rank higher in search engines with optimized SEO
Pricing
When it comes to pricing, WP Tangerine offers three pricing plans.
Basic Plan: $197 per month
Pro Plan: $297 per month
VIP Plan: $997 per month
WP Copilot has been one of the 1st class Australian WordPress support since 2012. Also, they only hire the top 2% of WordPress developers to make sure of the high-quality support. You'll get the best support for page speed optimization, Google Analytics, wooCommerce support, and much more.
You only need to send a quick email, and the WP Copilot team will help you with anything. You can also send a support request from the member's area. After that, experts will get to work, and you can get back to work on your business.
Key Features
Troubleshoot and fix the white screen error
Installs, activates, and modify WordPress themes on request
Easily modify the WordPress configuration files
Transfers databases and files to a new account
Helps to improve conversion rates and set a conversion goals
Pricing
In order to get started with WP Copilot, it'll cost you $99 per month.
If you are looking for exclusive tools to manage your website, then GoDaddy WP Premium Support is the one for you. Also, this platform efficiently manages all your projects with the hub for free. You can easily manage and monitor all your client's websites from one place.
You'll also get scheduled, on-demand, and downloadable backups for up to 90 days. Also, this comes with a single-click restore. The best part is that you'll get a notification if your client's website got any issues. In addition, it comes with Sucuri, which will help you keep your client's site safe with regular security scans.
Key Features
Bulk updates of WordPress core, plugins, and themes
Single sign-on option for user convenience
Features a customizable checklist
Project templates to choose from
Visual timeline to simplify your projects
Pricing
WP Premium Support service are categorized in four pricing plans.
Starter Plan: $49.99 per month
Basic Plan: $79.99 per month
Deluxe Plan: $99.99 per month
Ultimate Plan: $149.99 per month
B. Conclusion
Here we are at the end of the article. These are the best WordPress maintenance and support services you can use in 2023. We hope to have answered your queries on managing your WordPress website. Also, you can provide feedback if you have used any services from any of the platforms mentioned above.
Feel free to check WordPress articles like this in our blog section. Also, have a look at our recently published articles WooCommerce Vs Shopify and the best contact form plugins for WordPress.
You can connect with us via Facebook and Twitter. Lastly, subscribe to our Youtube channel for WordPress videos.