Do you know about email marketing and tools? Or want to grow your business in this aggressive market? Fear not; we got you covered.
In this article, we will be focusing on the best email marketing tools to use in 2023. Email marketing is a very effective technique to grow your business. It's affordable, efficient, and easy to use. 
So, without further ado, let's get started.
A) What is Email Marketing?
Email Marketing is a popular and efficient digital marketing strategy for any business. Furthermore, email marketing is one of the popular segments of internet marketing. If done right, this method is cost-effective and has higher chances of conversion than any other marketing technique.
In addition, email marketing is versatile. You can promote new releases, blog posts, special offers, newsletters, and many more just using a single tool. Furthermore, you can run various campaigns to reach a more extensive potential customer base.
You can directly connect with your customers via email marketing. Small businesses, large businesses, or freelancers hugely depend upon email marketing for expansion. In addition, you can deliver a tailored experience of personal touch with your customers.
B) Advantages of Using an Email Marketing Tool
There are countless advantages of using email marketing compared to any other tool. Also, we have covered some of the advantages of email marketing in this article. Moreover, we recommend reading them thoroughly before diving into the email marketing tools.
i) Affordable
The most lucrative factor of email marketing is affordability. This method has lower costs compared to mainstream marketing techniques. You do not have to allocate funds for physical assets like flex, brochure, and magazine. However, you might want to hire a copywriter capable of writing compelling sales copy.
In addition, there are no logistic charges like delivery, couriers, dedicated staff for email marketing. You can promote your business to hundreds of potential customers with a few clicks.
ii) Easy to Use
Email marketing is a reasonably easy task to do, and you don't require dedicated teams or even a single employee. Most of the tasks are automated in email marketing, and all you need is a compelling sales copy.
In addition, with a simple setup with an easy interface, you can run multiple email campaigns. We have mentioned some of the easy-to-use tools below.
iii) Target Audience and Monitoring
You do not have to search person by person for email marketing. Instead, several web analytics tools help target the progress of campaigns and reach your target audience. In addition, you can test out different sale copies, demographic, and locations for the best possible conversions.
Also, you can monitor the performance of campaigns. There are several metrics to analyze in email marketing for future planning. In addition, you can base your future emails based on emails having excellent performance.
iv) Engaging
Email marketing is not only plain boring texts, as many people think. There are fantastic tools that make the experience interactive. You can create quizzes, attach infographics, videos, images, etc. Furthermore, you can compel your readers to purchase without leaving the inbox.
v) High Conversion and ROI
Email marketing has the highest conversion ratio among all the digital marketing techniques. The ROI (Return On Investment) of email marketing is significant, and you can generate a $44 return on every dollar you spend.
These are the advantages of using email marketing. Now let's look at the best email marketing tools.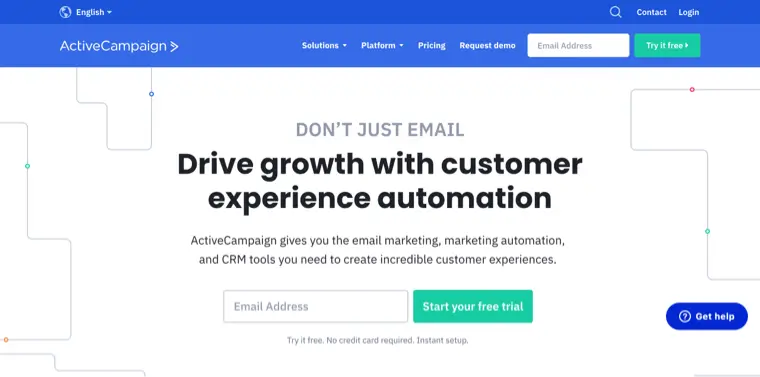 ActiveCampaign is an email marketing tool that lets you automate emails and provides CRM (Customer Relation Management) tools. In addition, they offer email services to three main categories eCommerce, B2C Companies, and B2B Companies.
They have four key strategies for marketing. Reach, Nurture, Covert, and Grow. You can set up an autoresponder to send a series of emails or deliver lead magnets with scheduling options. Furthermore, you can send personalized emails targeting potential customers.
You can check out the blog section for in-depth knowledge about marketing tactics. Also, you can apply for an affiliate program and earn via referrals.
Key Features
Send automatic follow-up emails
Email funnels for automated lead generation
Over 120 email templates
14 day trial without the need for a credit card
Chrome and Outlook email extensions
Automatic customer follow-up email
Integrations available for WordPress, Shopify, and Salesforce
Follow-up SMS response for email subscription
Cons
Lack of custom fonts in emails
Pricing
ActiveCamapign comes in four annual pricing plans. These plans are based on 500 contacts. However, the price increases with other options ranging from 1000 to 100,000 contacts and above. The four pricing plans are
Lite: $9 per month
Plus: $49 per month
Professional: $149 per month
Enterprise: $259 per month
SendGrid has been a popular email marketing service provider since 2009 and has been serving more than 80,000 customers worldwide. Also, SendGrid's noticeable customers consist of Uber, Booking.com, Spotify, and more.
In addition, SendGrid processes over 100 billion emails monthly of their customers. You'll get domain authentication, compliance and deliverability coaching, and proactive ISP outreach for optimal inbox delivery.
Furthermore, you can quickly scale your email campaigns via SendGrid. Also, you'll get exceptional customer support via the support team for guidance in every step. Moreover, the communication service of SendGrid is up for 99.99%.
Key Features
Custom plans for email
Delivery optimization tools for emails
Data-rich analytics
Globally distributed cloud-based architecture
Troubleshooting feature to identify issues
DMARC and DKIM authentication in messages
Integrate and manage user permissions to existing SSO
100 free emails every day
Cons
Limited emails in all plans
Pricing
There are four pricing plans for SendGrid email services. They are as follows.
Free: Up to 100 emails for free monthly.
Essentials: $14.95 for 40,000 emails monthly.
Pro: $89.95 for 100K emails monthly.
Premium: Custom pricing according to need.
Drip is a comprehensive email marketing platform that makes managing customer lists set up workflows easy. Also, they focus on powering eCommerce platforms for maximum revenue generation.
They offer a powerful and customizable email segment that boosts conversion, increases engagement, and keeps customers coming back. In addition, you can choose from an array of pre-built templates for brand promotion.
Furthermore, you can experience automation tools like drag and drop builder, split testing, etc. Also, you can get support via live chats, proper documentation, and a blog section.
Key Features
You can send unlimited emails on any plans
Over 100 integrations
Integrations available for Sleeknote, Zapier, etc
14 day free trial with no credit card
eCommerce integration with WooCommerce, Shopify, Magneto, and more
Pre-made visual workflows
Personalized and dynamic forms for an excellent experience
Insights to form and pop-up performance
Cons
Pricing
There are two pricing plans for Drip. We are looking at the standard pricing for up to 500 contacts.
For $19 per month, you can send unlimited emails.
Similarly, for $22 per month, you get additional 200 SMS in the above plan.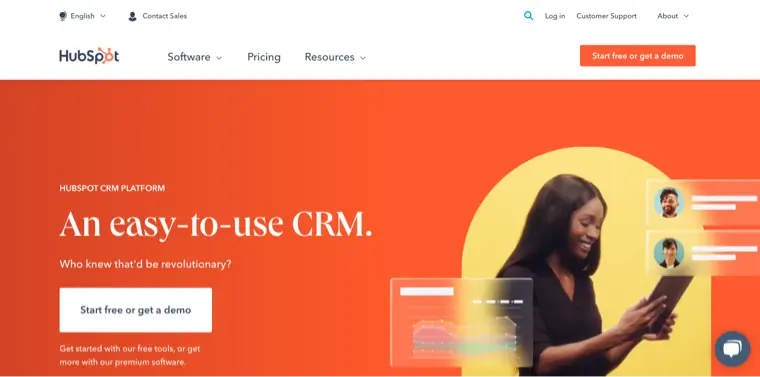 HubSpot is probably the most popular email marketing tool, and they have very flexible solutions that cater to businesses of most scales. Also, most of their features are divided among Marketing Hub, Sales Hub, Service Hub, CMS Hub, and Operations Hub.
Marketing Hub focuses on traffic such as landing pages, SEO, etc. At the same time, Sales Hub focuses on scheduling, sales automation, and many more. Furthermore, the Service Hub focuses on customer support to grow the business.
In addition, CMS Hub provides content management software for markets and developers. Finally, operations Hub helps sync apps, manage customer data, and automate the whole process.
Key Features
Programmable automation of the campaign
Support tickets for customers
Traffic and conversion analytics
Team email for more flexibility
Integrations like Microsoft 365, Zendesk, Square, and more
Email tracking and notification
Ticket creation bots
In-app calling option
Cons
No free plans are available
Pricing
HubSpot offers three pricing plans.
Starter: $50 per month for 1000 contatcs and extra $50 for every additional 1000 contacts.
Professional: $890 per month for 2000 contacts and extra $250 for every additional 5000 contacts.
Enterprise: $3200 per month for 10,000 contacts and extra $100 for every additional 10,000 contacts.
Note: You can save up to 10% on Starter and Professional pricing plans by paying the 1-year fee.
Sendinblue is a platform that provides multiple services like emails, chats, CRM, and many more. Also, they have fantastic reviews on platforms like Capterra, G2, and Trustpilot from verified users.
You can choose from multiple professional email templates. In addition, all of the templates are responsive and look beautiful on any screen size. Also, the drag and drop builder makes the email marketing learning process smooth.
Sendinblue offers many features in their pans like sign-up forms, Facebook ads, Targeted ads, and more. These features will boost your business reach and helps the growth of the contact list.
Key Features
Free to get started
Advanced email personalization option
Unlimited lists and contacts
Customizable sales pipelines
Multichannel chat app
Email heat map
Send time optimization using machine learning
Plugins for making the experience more flexible
Cons
It might be somewhat tricky for new users
Pricing
Sendinblue offers four pricing plans at the moment.
Free: 300 emails per day
Lite: $25 per month up to 100K emails
Premium: $65 per month up to 1000K emails
Enterprise: Customized pricing based on volume
MailChimp is a dominant name in email marketing service serving over 13 million businesses. You can boost your conversion and revenue using their mailing services and grow your business.
In addition, you can create excellent content with drag and drop flexible builder templates with an AI-powered Creative Assistant. Also, with the help of the Insights & Analytics tool, you can track what is going on and get recommendations for the best outcomes.
You can also enjoy support 24/7 from an award-winning support team. Recently. MailChimp was named as one of the best global software companies of 2021 by G2.
Key Features
Personalized transaction emails using MailChimp's API and SMTP
20+ years of email experience
eCommerce automation for WooCommerce, BigCommerce, Shopify, etc
Delivery based on time-zones
Customer reminder email for abandoned carts
Welcome email for a new subscriber
300+ integration options
Cons
Pricing
There are four pricing plans that MailChimp offers at the moment.
Free: Free cost for 10,000 emails with a daily limit of 2000 for up to 1500 contacts.
Essentials: $23 per month for 1500 contacts.
Standard: $59 per month for 2500 contacts.
Premium: $299 per month for 10,000 contacts.
Mailgun is a leading email delivery service for businesses around the world. You can use powerful APIs to send, receive, and track emails with minimal effort. Also, they are trusted by more than 250K businesses worldwide.
They provide an excellent best-in-class email builder to create stunning emails in minutes. Furthermore, there are features like segmentation, personalization, a/b testing, and more.
Key Features
Easy and simple SMTP integration
Real-time email verification API for security
Dedicated IP address
Fast setup and easy integrations
Live chat support
Trigger emails based on website behavior
Integrations available in languages like Java, Python, PHP, and more
Cons
Live phone support only in Scale plan and above.
Pricing
There are four pricing plans for MAilgun at the moment. They are as follows.
Trial: Get 5000 emails per month for 3 months.
Foundation: $35 per month upto 50,000 emails.
Growth: $80 per month upto 100,000 emails.
Scale: $90 per month up to 100,000 emails and live phone support.
Enterprise: Custom pricing for an enterprise-grade solution.
Elastic Email is a powerful multi-product platform that will help you grow your business. You can create, personalize, and automate email communication. They have over 10 years of experience in this field.
In addition, Elastic Email has a custom delivery system that allows maintaining the whole process of delivering emails from start to finish. In addition, you can get 24/7 support from an award-winning team.
Key Features
One-click professional-looking emails
A diverse collection of ready to use templates
Advanced scheduling options
Unlimited emails in all plans
Seamless integration of RESTful email API
Quick set up of SMTP
Supports third-party plugins like Joomla, WordPress, Drupal, and more
Cons
Pricing
Elastic Email offers two email marketing plans.
Unlimited: $15 per month up to 5000 contacts.
Unlimited Pro: $50 per month up to 10,000 contacts with extra features like faster delivery, unlimited custom fields, etc.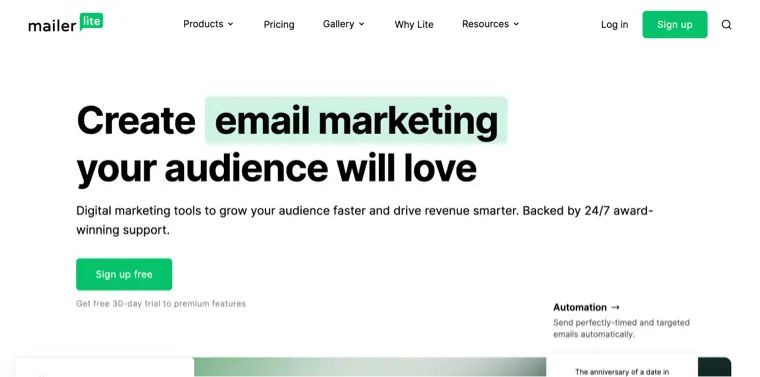 MailerLite is an email service provider with more than 1.4 million customers worldwide. They offer 24/7 support with a 97% satisfaction rate and 5 minute average response time.
In addition, you can enjoy an excellent user experience with ease of use. Furthermore, you can find tons of integrations in the service provider. Some of the most used integrations are Stripe, Shopify, WordPress, WooComerce, etc.
Key Features
Dynamic content blocks exclusively for the targeted audience
Scheduling based on time zones
Customizable unsubscribe page builder
Confirmation email on successful purchase
Email verifier for clean and optimized email lists
Embed sign up forms to gain subscribers
Send automatic emails to subscribers in specific email lists
Cons
Pricing
You can choose from three pricing plans for MailerLite.
Free: 1000 subscribers and 12,000 free monthly emails.
Growing Business: $9 per month for up to 1000 subscribers with unlimited emails and 3 users.
Advanced: $19 per month up to 1000 subscribers with unlimited emails and users.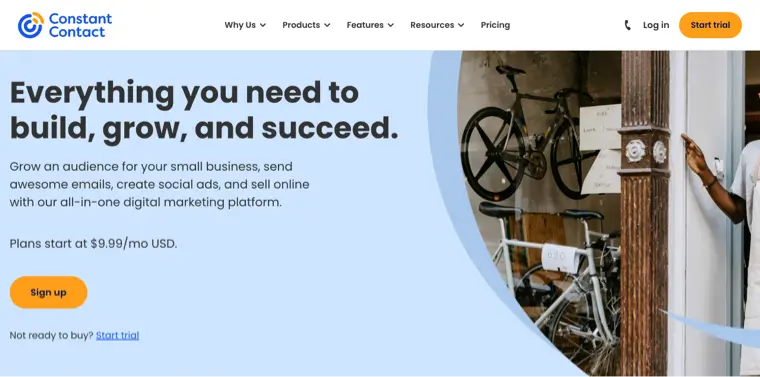 Constant Contact is an all-in-one digital marketing solution focusing on small businesses. Also, the email platform helps to drive sales, engage the audience, and monitor what's happening in your email lists.
You can run drip email campaigns from Constant Contact. Moreover, you can also run special campaigns like coupon offers, charity collections, and more. Furthermore, you can upload the offline contact lists from existing Excel and Outlook.
Key Features
Easy to use drag and drop email editor
Automatic welcome email to new subscribers
Dynamic sign up forms
In-depth report of email campaigns
Surveys and polls via email
Hundreds of customizable templates
Mobile optimized email campaigns
Integrations in platforms like Office 365, Shopify, WordPress, and more
Cons
Pricing
Constant Contact offers two pricing plans for email campaigns.
Core: $9.99 per month for 500 contacts.
Plus: $45 per month for 500 contacts with additional features.
ConvertKit is an email service provider that helps grow your audience, foster community, and earn a living online. Also, they're a creator-friendly service provider working with more than 428K creators at the moment.
You'll get a clutter-free writing experience with easy-to-use email templates. In addition, you'll get a high delivery rate of 98%, with an average open rate of 30%. Furthermore, you can automatically tag or create custom segments of subscribers.
Key Features
Stats on every email sent
Free up to 1000 first subscribers
No limit on email templates
Automatic funneling and sequencing
Responsive emails fit for all devices
Powerful features for advanced creators
Create custom email templates with HTML
Cons
Pricing
ConvertKit offers three annual pricing plans. They are as follows:
Free: Free for 300 subscribers.
Creator: $25 per month for up to 1000 subscribers.
Creator Pro: $140 per month for up to 10,000 subscribers.
AWeber uses one, two, or all easy-to-use marketing solutions for quicker success with low cost. You can get services like email marketing, landing page builder, email automation, eCommerce pages, and web push notifications.
AWeber uses Canva, a powerful design tool inbuilt to create beautiful and professional-looking emails. Also, you can use a massive library of high-quality stock images. Furthermore, you can send targeted messages based on occasion, automatic recent blog mails, etc.
Key Features
Pre-built campaigns that save time
Custom emails without any coding
Create segments based on tags, clicks, purchases, and so on
Integrations available for Facebook, WordPress, Paypal, and more
Web push notification for free in all plans
6000+ stock images available for email design
Cons
A limited number of subscribers in standard plans
Pricing
AWeber offers two annual pricing plans for standard users.
AWeber Free: Free up to 500 subscribers with 3000 emails per month.
AWeber Pro: $16.15 per month for 500 subscribers with unlimited emails and other advanced features.
Furthermore, you can get a quote for custom subscribers,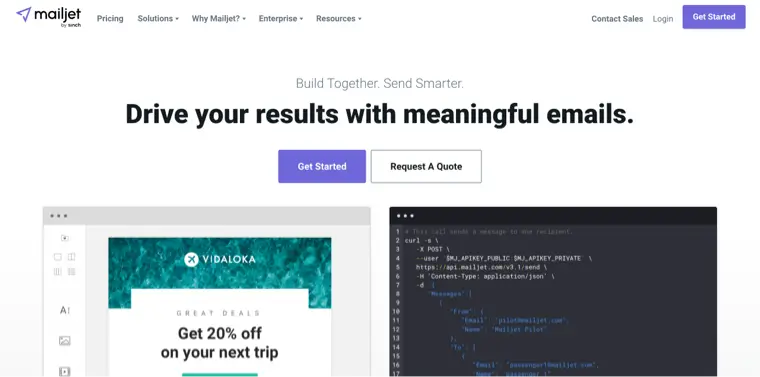 Mailjet is an intuitive and collaborative tool that helps you create attractive and successful campaigns for your email lists. In addition, you can enjoy their creative drag-and-drop builder to design responsive emails and newsletters.
Mailjet also provides a dedicated WordPress plugin for integration. In addition, the platform is GDPR and ISO-27001 compliant. Furthermore, Mailjet's automation tools can automate welcome emails, confirmation emails, contact anniversaries, etc.
Key Features
Advances statistics of email campaigns
Specific roles and permission for team members
Email template gallery
Subscription form to grow email lists
Create targeted segments based on identity, interests, and behaviors
Collaboration toolkit for team campaigns
80+ integrations like Google, WordPress, Magneto, etc
Cons
Limited automation features.
Pricing
Mailjet offers four pricing plans. The Free plan does not require a credit card. The four pricing plans are.
Free: 200 emails daily and up to 6000 emails monthly, totaling 15000 emails.
Essential: $15 per month for 15,000 emails with no daily limit.
Premium: $50 per month for 50,000 emails and advanced features.
Custom: Infinite scalability that supports a high volume of emails.
C) Conclusion
Here we are at the end of the article. We hope to have answered all your burning questions about email marketing and its uses. Also, we have covered the best email marketing services that you can use in 2023.
Furthermore, you can give your feedback in the comment section if you're using any of the above services. Also, check out our article on tips to make money from a WordPress site.
You can connect with us via Facebook and Twitter. Also, subscribe to our Youtube channel for WordPress videos.