Are you looking for the best membership plugins for WordPress websites? Or are you confused among endless lists of WordPress membership plugins? Don't worry; we have got you covered. This article shines light upon the best available membership plugin for a WordPress website and its uses.
So without further ado, let's get started.
A) Why Membership Plugin in a WordPress Website?
A membership plugin is crucial for growing your business. You can collect massive lists of emails and user data for successful digital and email marketing campaigns. Now, let's look at some of the reasons you need a membership plugin.
Exclusive content is one of the significant factors in attracting users. The Fear Of Missing Out (FOMO) urges many visitors to register on a website.
i) Genuine Content
A website that focuses on a specific subject has a higher chance of engagement. Furthermore, niche websites also have a high probability of conversion than general websites. You can push genuine content to make your users hooked.
ii) Access
You might want to differentiate users on your website. For example, you can grant access to registered users on your website and hide specific content from regular visitors.
iii) Building Online Business
An online business cannot exist without membership or user registration. In addition, you need to keep track of orders and payments in an online business. Furthermore, you can set up a WordPress website with a subscription model with exclusive content and collect monthly fees.
iv) Building Online Communities
If you wish to build an online community, membership plugins are vital. Online communities are built around exchanging information and creating values with the help of membership plugins. Furthermore, you can create discussion forums where registered users can discuss and interact with each other.
v) Cost-Efficient
Every website owner wants their website to grow exponentially. Membership sites can achieve this growth with scalability. You can manage many potential customers with a minimal investment via membership plugins. In addition, you do not have to worry about user databases as everything can be automated, like sending birthday emails, promoting new products, and more.
vi) Building a Loyal Customer Base
Having a registered user is a plus as it's a sign of commitment to your website that you can achieve with a membership plugin. In addition, a registered user revisits your website in comparison to regular visitors. Also, this builds trust and raises the probability of sales. Lastly, you can use the registered user's data to promote existing and upcoming products and services.
vii) More Valuable With Time
The value of your website grows proportional to time. Also, a larger user base creates a lot of value for a WordPress website. Furthermore, the amount and quality of content your website accumulates, in the long run, is the best portfolio for any kind of proposal or business deal.
In addition, many advertisers will look into factors like the number of verified users, engagement of the users, and recurring users before investing in your website.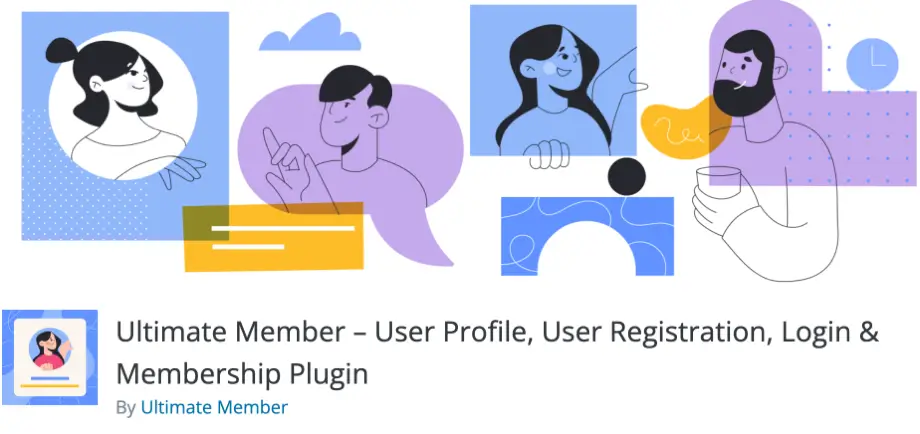 Ultimate Member is a user profile, registration, login, and membership plugin. It's one of the #1 user profile and membership plugins for WordPress, with over 200,000 websites using it currently.
Talking about features, Ultimate Member combines beautiful front-end elements with powerful admin functionality. For instance, member directories, user profiles, account management, user registration, etc. That'll make it easy for you to create a user-based website with WordPress.
Key Features
Decide a person's status after registering on your site
Allow users to be auto-approved, require email activation, or be manually approved by the admin
Redirect users to their profile or redirect them to a custom URL
Create multiple registration forms for your website
Assign a user rote to be the default user role when users sign up on your website
Pricing
The free version of this plugin is available on WordPress.org to download.
Members is a membership and user role editor WordPress membership plugin. You can offer your users the ultimate member experience with its powerful tools. You can add roles and capabilities and assign them to your users.
Moreover, it allows you to set permissions to restrict content on your site by providing a simple user interface. You can allow editing, creating, and deleting roles and capabilities for these roles.
Key Features
Give one, two, or even more roles to the user
Deny specific capabilities to specific user roles
Build a new role by cloning an existing role
Protect content to determine which users have access to post content
Pricing
You can download this WordPress membership plugin for free from WordPress.org.
Paid Memberships Pro is a complete member management and membership subscription plugin for WordPress. It gives you all the tools to start, manage, and grow your membership website. Also, it's ideal for premium content sites, online courses or LMS and training-based membership, clubs, etc.
With this membership plugin, users can select a membership level, complete checkout, and immediately become members of your website. Also, you can decide what content your member can access.
Key Features
Create unlimited membership levels with flexible pricing, including free memberships
Wintegrates with Stripe, PayPal, and other payment gateways
Completely manage your membership data, import and export members or orders report
Includes native integration with Zapier to connect your apps and automate workflows with o code
Pricing
This is a free WordPress membership plugin available at WordPress.org.
WP-Members Membership Plugin is the first WordPress membership plugin for content restriction, custom registration, etc. It's simple to set up and configure yet provides standard hooks that allow you to customize as you wish.
Moreover, it comes with robust features like restricted content as restricted or hidden. You can also limit access to registered users.
Key Features
Easily restrict or hide posts, pages, and custom post types
You can limit items to logged-in users
Allows to create of custom registration and profile fields
Hold new registration for admin approval
Pricing
This plugin comes in both free versions, available at WordPress.org.
Simple Membership is a flexible and easy-to-use WordPress membership plugin. This plugin lets you protect your posts and pages so only members can view the protected content.
In addition, with this plugin, you can set up unlimited membership levels, for instance, free, silver, gold, etc. Also, non-members viewing a protected page will be promoted to log in or become a member.
Key Features
Both one time and recurring subscription payment options are available
Offers developer API that can be used to query, create, update member accounts
Customize the member login widget by creating a custom template in your theme folder
Ability to protect photo galleries, attachment pages
Pricing
This is a free plugin. You can easily download it from WordPress.org's official directory.
Restrict User Access is a fast and simple membership plugin for WordPress. You can quickly set up a membership site where your users can get different levels like platinum, gold, or free. Then you can grant those levels when a user purchases a product in WooCommerce.
Moreover, users can have multiple access levels, and you can control how long memberships should last. Also, when an authorized user tries to access restricted content, you can direct them to another URL or display a teaser.
Key Features
Auto adds a level to your user based on some of their purchase
Restrict access to your post, pages, or categories
Content with tags, categories, or custom taxonomies
Supports WPML, Polulyang, qTranslate, TranslatePress, Transposh
Pricing
Restrict User Access is a free WordPress membership plugin available at WordPress.org's official repository.
s2Member is a free WordPress membership plugin that lets you protect WordPress content. As well as it offers users a secure checkout solution to get access. With this plugin, you can protect your whole website, specific areas, or even just part of pages.
Moreover, this plugin provides configurable access to a specific portion of your content with levels or access capabilities. You can also protect downloaded files and streaming audio or video. It allows you to store files locally or use s2Member's integration with Amazon S3 and CloudFront CDN.
Key Features
It comes with unlimited membership levels
Offers renewal reminder emails
Single-step registration and payment with S2Member pro-forms
Fully integrates with PayPal Pro, Stripe, and Authorized.net
Provides public members directory
Pricing
It's a completely free WordPress membership plugin. You can easily download it from WordPress.org's official plugin directory.
Ultimate Membership Pro is a well-known WordPress membership plugin. This plugin allows you to create and work with multi-level exclusive access for your members based on simple free membership or paid subscriptions.
Also, this plugin comes with a content access management feature. Using this feature, you can set access rules for any type of content, post type, or any URL from your WordPress website with a few clicks. Plus, you can easily lock the navigation menu or physical files easily.
Key Features
Unlimited number of premium subscriptions with a one-time payment
One dashboard to follow user's activity, current subscription status, and reports
Built-in integration with PayPal, Stripe, Checkout, Braintree
Easy partial content restriction with a simple shortcode
Pricing
This is a premium plugin available for $59 from CodeCanyon.net.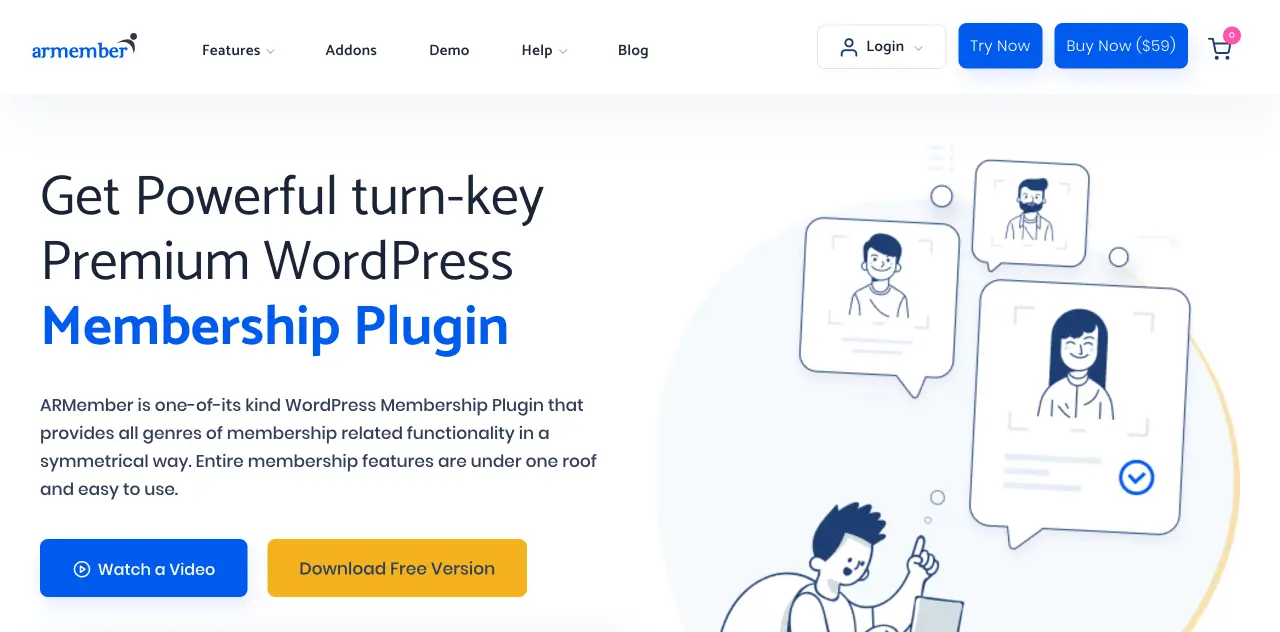 ARMember is a one-step solution to sell WordPress subscriptions, user registration, user profile, etc. You don't need any advanced knowledge of programming to use this plugin.
Additionally, this plugin offers you features like business consulting services. That offer you hours within specific plans, offer step-by-step sessions, or build a training service platform. You can also sell complete online courses, individual lessons, or ongoing serial content.
Key Features
Create services to connect people and communities in one place
Sell podcasts, graphic designs, templates, or any digital content
Run recurring payments with subscriptions
Easily set up a lifetime of finite membership
Pricing
You can download the free version or get the premium version for $59.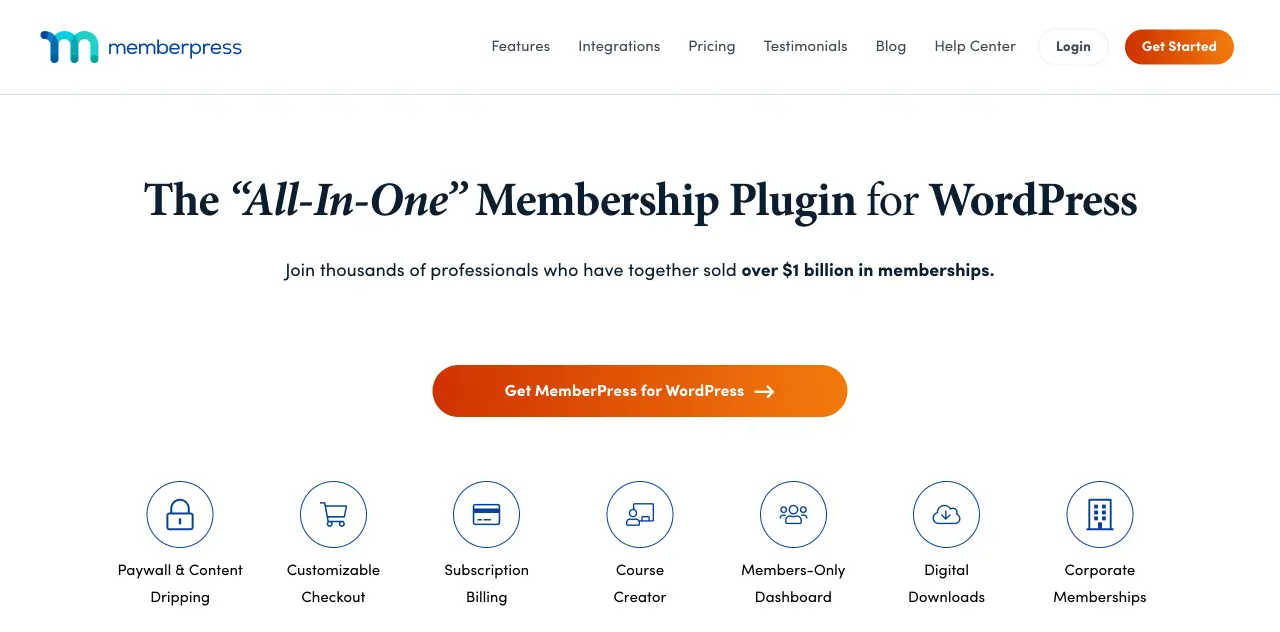 MemberPress is an all-in-one membership plugin for WordPress. This plugin lets you build amazing WordPress membership websites. You can also accept credit cards securely, control who sees your content, etc.
Moreover, you can use this plugin to sell what you know. MemberPress course's powerful LMS platform makes it easy for anyone to build and sell an online course.
Key Features
Sell more and keep your customers with easy-to-customize coupons
Choose among the default themes to create a dynamic pricing page
Integrates with various payment gateways
Give members the freedom to join, upgrade, or cancel the subscription right from your website
Pricing
MemberPress comes with 3 pricing plans:
Pro: $399 per year
Plus: $299 per year
Basic: $179 per year
WooCommerce Membership is a WordPress membership solution that 100% integrates with your content and products. It's not just another plugin for restricting your website's content. It's an easy-to-use, site-wide membership solution that brings your content, shop, and memberships together.
While memberships are not a specific type of WooCommerce product but are created independently from products. This plugin lets you determine how access is granted for maximum flexibility. Also, you can assign 0 or more products to a membership plan to support various types of memberships.
Key Features
Sell a membership as a stand-alone product
Grant access to a membership as part of a product purchase
Give access to the same membership from several products
Also, assign membership manually for an invite-only members area
You can restrict product viewing to members
Pricing
WooCommerce Membership plugin is available at $199 annually.
Restrict Content Pro is one of the most flexible and easy-to-use membership plugins. You can customize and build a unique membership website with the help of this plugin. Also, this plugin integrates seamlessly without any custom CSS.
With the help of this plugin, you can lock exclusive content and only give access to valued registered subscribers. In addition, the integration of payment plugins helps you sell premium content making complex revenue streams easy.
Key Features
Create custom action hooks and filters for your website
Simple and lightweight with powerful features
Easy to use and customizable templates for user registrations
Integrates with marketing tools like Mailchimp, ActiveCampaign, and more
SUpports payment methods like PayPal, Stripe, and so on
Pricing
Restrict Content Pro comes with four annual pricing plans.
Free: Free to use but 2% processing fee on Stripe payments.
Personal: $99 per year with a single site license.
Plus: $149 per year with five site licenses.
Professional: $249 per year for unlimited websites.
Paid Membership Subscriptions is another popular WordPress membership plugin that is easy to set up, and no coding is required. You can create your membership website and start getting paid almost instantly.
Also, you'll be able to create and manage membership subscriptions, grant and restrict access to posts, pages, and categories. As well as custom posts based on the subscriptions your website users have purchased.
Key Features
Restrict product viewing, purchasing, access to the WooCommerce shop
Unlimited PayPal Standard and free subscriptions
It comes with an account management feature
8 basic addons like global content restriction, discount codes, bbPress, etc
Pricing
This premium plugin is available in 2 pricing plans:
Pro Version: €149
Basic: €69
MemberMouse is the enterprise-level membership plugin for WordPress. Using this plugin, manage free and Paid members with a simple and intuitive CRM. Also, put your member management on autopilot.
Additionally, whether it's a membership or physical goods, MemberMouse makes it easy to sell any kind of product on your website. You can also customize your marketing message based on each user's purchase history.
Key Features
SmartTags lets you greet each customer by name, offer real-time product recommendation
Protect member-only content with a variety of access controls
Auto trigger internal notifications of a user action
Members can easily reset their password, view purchase history, update their account information
Pricing
This is a premium plugin but gives you a 14-day free trial. It comes in 2 pricing plans:
Monthly Builder Plan: $29 per month
Annually Builder Plan: $24.8 per month
B) Conclusion
Now, we have reached the end of the article. We hope to have answered all your queries regarding the best membership plugins for WordPress websites. In addition, we have covered the best membership plugins that you can use in 2022.
Also, you can share your thoughts if you've used any of the plugins in the comment section. You can also check out our other articles on tips to make money from a WordPress site and Kadence vs Blocksy theme.
You can connect with us via Facebook and Twitter. Also, subscribe to our Youtube channel for WordPress videos.