Multivendor marketplaces have become one of the most revolutionary inventions in the e-commerce world. You can easily create an online marketplace in WordPress. All you need is an effective WordPress multivendor plugin that is easy to set up, affordable, and user-friendly.
But before going into the detailed review, you should know the basics.
i) Single vs Multivendor Marketplace – Facts & Stats
There are huge differences between a single vendor and multivendor marketplaces. A Single Vendor online marketplace is where a single seller sells directly to the customers. The marketplace is run and managed by a single seller who offers a variety of products to buyers.
Whereas a multivendor marketplace is an online marketplace that allows multiple vendors to sell to different customers. Under a multivendor marketplace, vendors can sell products across multiple categories.
Each vendor has control over their stores and can post products via the vendor dashboard. The entire store is run by the super admin who controls and oversees all the activities on the site.
ii) Why and When Do You Need a Multivendor Plugin
If you are looking for a one-stop eCommerce store where customers can buy a wide range of products, a multivendor online marketplace is the best choice.
Vendors can collaborate with other vendors, each vendor can set up its store allowing shared resources among the vendors. A multivendor also provides additional functionality allowing you to extend the functionality of WooCommerce.
Vendors can post products, manage orders, sell products, manage their catalog, accept payment, manage tax, shipping, etc. Each vendor will have a unique store URL.
Also, multivendor marketplaces provide much more functionality compared to a single vendor. If you are looking at a B2B (Business to Business) online marketplace where more businesses can sell to customers, a multivendor marketplace will be best for you.
Another reason to consider a multivendor website is that the admin and the vendors both have access to the dashboard. This process makes it easy to manage the activities on the site.
Now that you know why you need a multivendor marketplace plugin, we can proceed to the review.
iii) Introducing Dokan – Best WooCommerce Multivendor Marketplace Plugin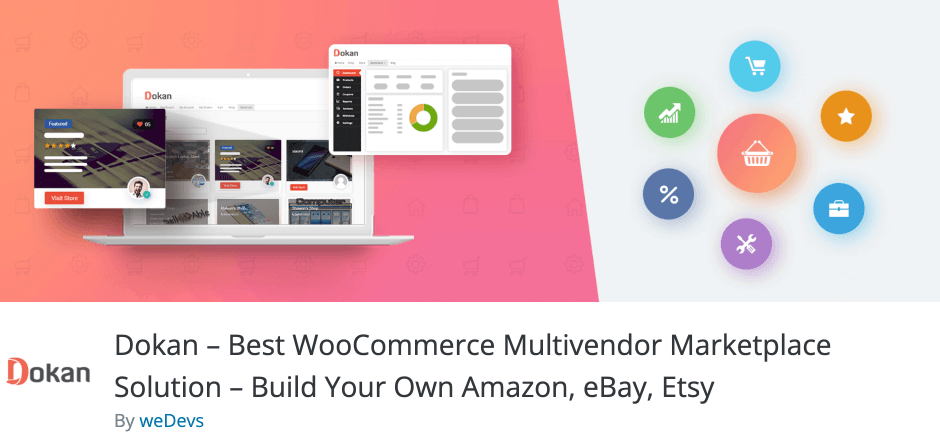 Dokan is the most popular WordPress multivendor plugin in the market. It is the first WordPress multivendor plugin. Dokan has over 70,000 plus active installs and over 4.5-star ratings on the WordPress repository. The plugin was developed by weDevs, an IT firm that develops mobile and web applications.
The developers of Dokan boast that it is one of the easiest and fastest multivendor plugins. It allows you to set up a functional multi-vendor marketplace in minutes. Another great benefit of Dokan is, it is a frontend multivendor plugin. It has a rich user experience which makes it easy to use.
iv) Dokan Top Features at a Glance
1. Front End Dashboard
It has an intuitive frontend dashboard. The dashboard provides vendors with access to all the functionalities on the site and also has a birds-eye view of the entire store activities.
Each vendor has access to a personalized dashboard where they can monitor orders, list products, manage withdrawals and also manage the entire store.
2. Custom URL for Each Vendor Store
It provides an independent marketplace for vendors. Each vendor has custom URLs that lead to their store on the website.
3. Customizable Page
Each vendor can customize their stores to suit their needs. Vendors can add banners, profile images, contact information, location, etc.
4. Different Commission Rates
As the super admin, you can set up commission rates on all products sold. Dokan allows you to set up the percentage, fixed-rate, or both commission types on all sales made on the site.
5. Order Management
It also offers a comprehensive order management system. Each vendor can manage orders from their dashboard, process the order, and shipping.
6. Easy Withdrawal System for Vendors
Dokan also provides an easy withdrawal for vendors. Multiple payment options make the transaction process smooth.
7. Vendor Review Management
Dokan also has a standard review management system. The system lets customers leave a review on products and shop.
8. Email Marketing
Email marketing is one of the fundamentals of digital marketing. Dokan also provides an email marketing functionality that allows vendors to send email messages to clients for marketing purposes.
9. SEO Management
Dokan is SEO (Search Engine Optimisation) friendly. It also provides SEO functionality that allows vendors to make their products and shop more visible on search engines.
10. Specialised Theme
One of the limitations of other multivendor marketplaces is that they rely on third-party themes to work. However, Dokan has a theme that is made for Dokan. It will save your cost when setting up your marketplace.
12. Comprehensive Admin Report
Dokan provides both the admin and the stores with a comprehensive reporting system. Vendors can track sales, orders, tax, shipping, etc.
13. Discounts and Coupons
It also allows you to set up or generate discounts coupons codes.
v) Essential Modules to Enhance Desired Functions
Dokan has all the basic features to set up a WordPress multivendor store. However, to extend the functionality of Dokan, the package comes with some inbuilt modules that allow you to extend the functionalities of your marketplace.
The modules are optional and can be added to increase the functionality of your multivendor WordPress site. These are some of the essential modules that can be added to your store:
Products Addon
Geolocation
Live Chat
Product Subscription
Seller Verification
Vendor Analytics
Ajax Live search
Vendor Review
vi) Pros and Cons of Dokan
1. Pros
Advantages of Dokan Multivendor marketplace
Dokan has Beautiful and customizable templates and a good user interface.
It has a comprehensive front-end dashboard.
It is compatible with most Woocommerce themes and plugins.
The setup is easy.
Dokan offers multiple payment gateways.
Dokan is available in over 17 different languages.
It has a low maintenance cost.
It has both free and a pro version.
2. Cons
It has lots of modules and some of the modules do not come free.
Some of the functionalities are dependent on WooCommerce modules
Beginners may have trouble with the whole setup process.
vii) Dokan Customer Reviews
Dokan is a highly rated plugin with a 4.5 star rating on WordPress. These are some reviews below.
viii) Technical Test Using WPHive.com
ix) How to Install Dokan
Here is a simple step-by-step method for installing Dokan on your WordPress website. To get started, install WordPress and WooCommerce on your site.
Login to your WordPress dashboard
On your WordPress dashboard, click the Plugins menu
On the plugins page, Search for Dokan
Install and Activate the Dokan Multivendor Plugin
Proceed and follow the installation wizard. The wizard is in three sections which are: Store, Selling, Withdraw.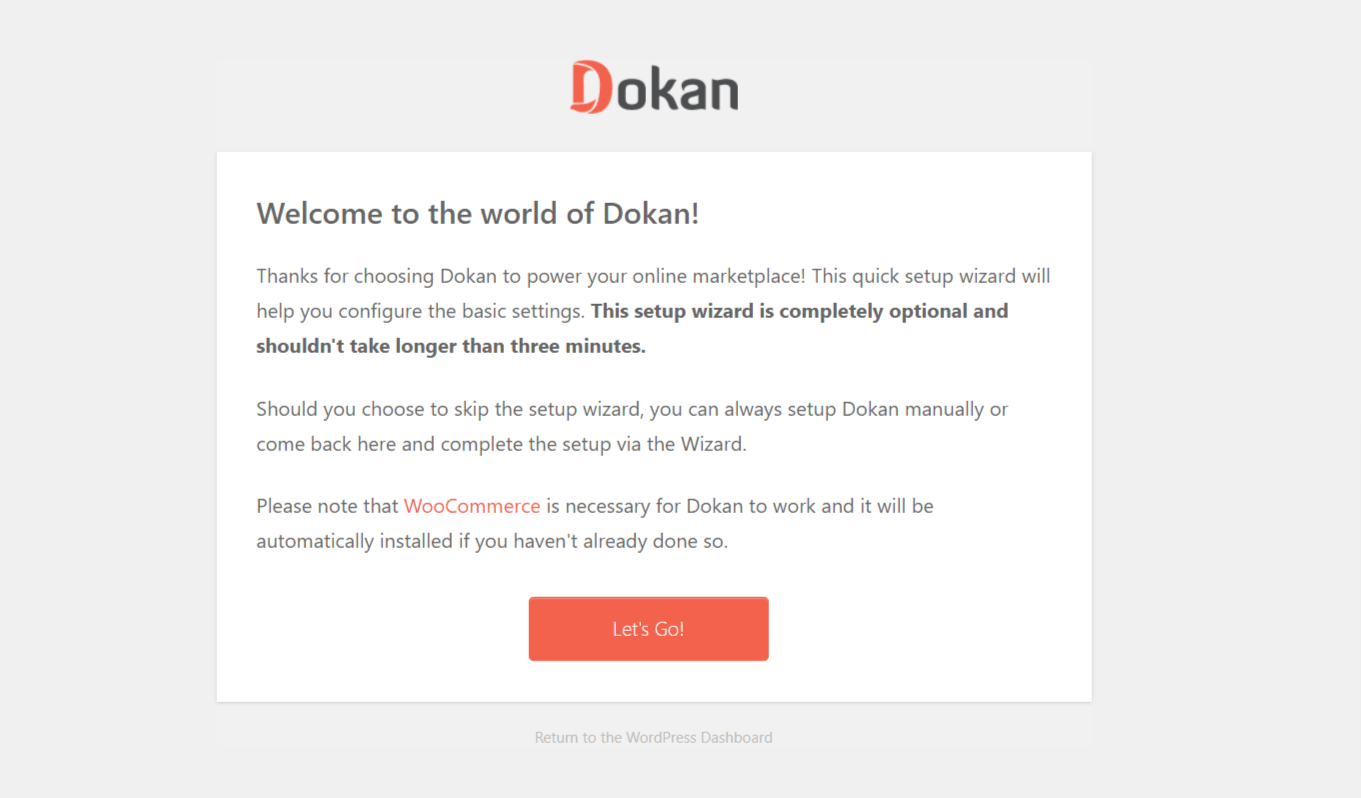 1. Store Setup
This is where you can set up store information. Set up the location of the vendor store, shipping fee recipient, tax fee, google Maps, etc.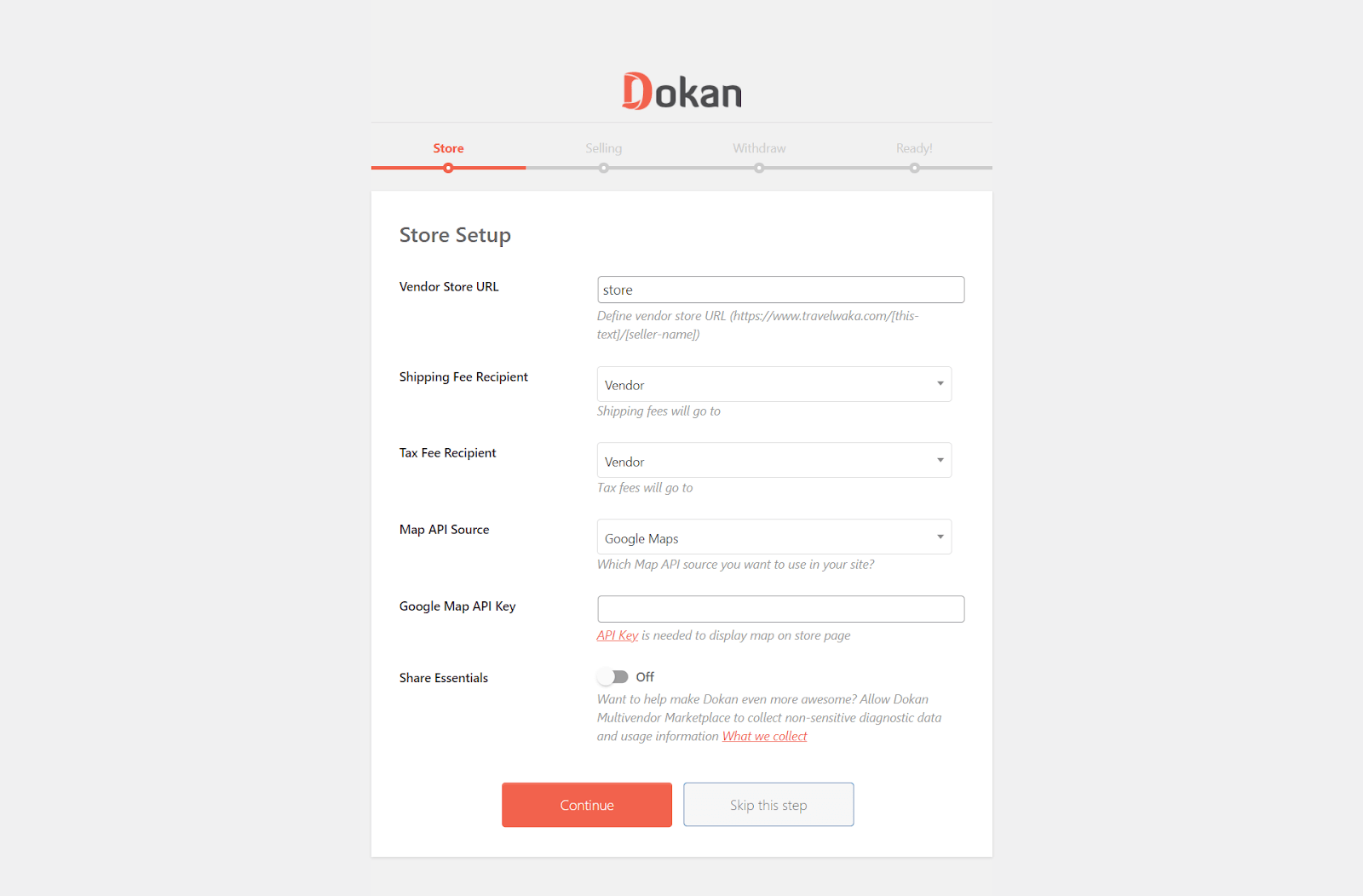 2. Selling
You can also set up commission type either percentages or a flat rate. In addition, you can also set up admin commission percentage etc.
3. Withdraw Setup
Under this section, you can set it to either a PayPal or bank transfer. This setting also allows you to set up the minimum withdrawal limit, Order status etc.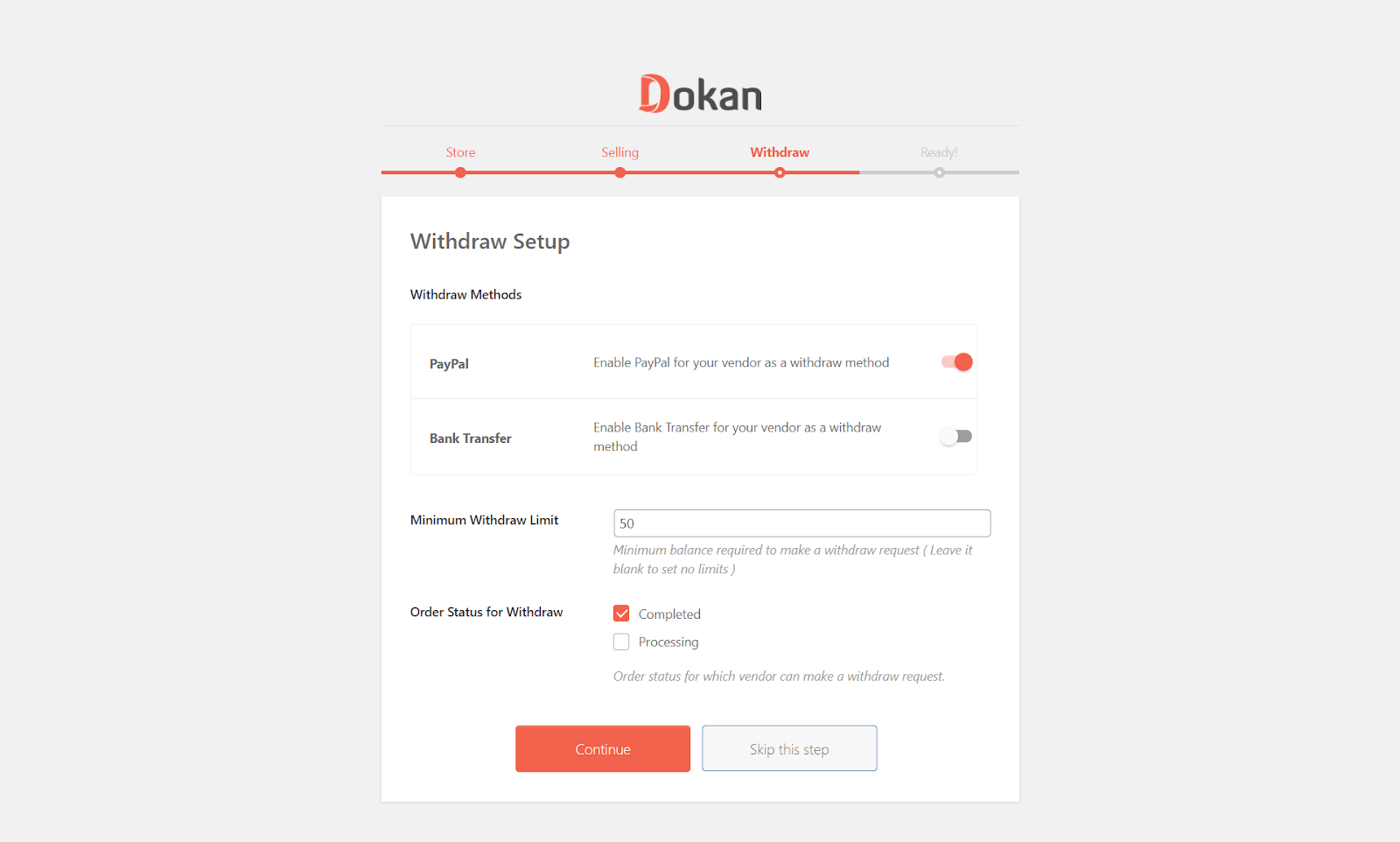 Your Marketplace is Ready!
This is proof that your WordPress multivendor plugin has been setup up finally.
To perform more settings or make more changes on your WordPress multivendor plugin, click on more settings. It will lead you to the full Dokan setup page on your website.
Note: You can check this video to see step by step guide to install and configure the Dokan Multivendor WooCommerce plugin.
x) Dokan Alternatives
Dokan is the best multivendor marketplace solution in the WordPress ecosystem for years. Not we, data says that. Most downloads, maximum active users, top-class support and user reviews all facts say that Dokan is the best. But yes, there are a few alternatives available as well with their unique features and functions.
Let's give a check to Dokan alternatives.
With more than 10000+ active installations, WC Vendors is fast becoming one of the top multivendor marketplaces in WordPress. It provides a detailed dashboard that provides the vendor's sales report. Also, it offers different registration forms and vendors can manage their products from the frontend.
It offers two complete shipping systems one is 'Flat rate' and the other one is 'Table rate'. However, it is not compatible with WooCommerce shipping zones. And it offers a commission structure flat, percentage+fee, flat fee.
The plugin has some great features and you can use it to create any kind of marketplace.
WCFM now has 30000+ active installations and is one of the top multivendor marketplace plugins in the industry. It has a distinctive front-end manager and supports a flexible commission system. The ledger book feature allows the admins and vendors to check every transaction made.
The frontend manager helps the vendors to set opening and closing hours as well as off days. The store review feature allows the users to leave a review for stores. Also, it offers to add tracking codes and URLs to sold items so that vendors can mark the order as complete.
WCFM has a great support system and some advanced features.
Summary
Over the years, Dokan has proven to be one of the most effective multivendor marketplace plugins in the market. With a rating of over 4.5 stars, it is one of the most affordable multivendor plugins. It takes less than thirty minutes to set up. The plugin comes with a free and a pro version.
Dokan is also compatible with a lot of WordPress themes. This makes it the ideal WordPress multivendor plugin.
No wonder Dokan has become e-commerce users' first choice when setting up a multivendor online marketplace.
Feel free to comment below if you have anything excited to share about the Best WooCommerce Multivendor Marketplace Plugin – Dokan.  Furthermore, if you need any help to configure Dokan or set up a multivendor marketplace submit your request via our dedicated Request Customization page.
Alternatively, you can develop a Multi-Vendor Marketplace with Easy Digital Downloads if you are using EDD (Easy Digital Downloads) and WordPress.