If you ask any SEO expert about the best WordPress plugin for SEO, they will probably come up with a couple of names: Rank math, Yoast SEO, SEOPress, All in One SEO, etc. WordPress users have been familiar with All in One SEO for a long time. If we go back a few years, it's the WordPress plugin that tons of WordPress users loved once. But as the WordPress world is growing more than ever, there are many new game-changer SEO plugins. And Rank Math is creating a good vibe. So, why not compare the two best SEO plugins for WordPress and find which one you should use this time?
Let's get started with Rank Math vs All in One SEO, shall we?
1. Rank Math Introduction

Rank Math came into existence in 2018 and significantly impacted the SEO community. Along with being lightweight, even the free version of Rank Math has some unbelievable features (like integration to Google Search Console and Keyword Optimization). And that's what made Rank Math proliferate.
2. All in One SEO Introduction
In 2007, All in One SEO launched its first free version, and it took no time to rule the WordPress plugin world. Until a few years back, it's was the only option suggested by SEO experts globally. Even now, it's the most frequently used SEO plugin. However, All in One SEO has limited features for the free version. Most of the useful and advanced features are available in the pro version.
Let's compare these popular WordPress SEO plugins Rank Math and All in SEO, based on feature, functionality, and price.
3. Rank Math vs All in One SEO Features
i. Keyword Optimization
With the Rank Math free version, you can analyze for at least five keywords at a time. If you go Pro, you get unlimited focus keywords optimization for each article. Moreover, it automatically suggests the new keyword when you start typing in the "focus keyword" section. You don't even need additional research.
You can optimize the overall content with All in One SEO. The repetition and position of the keyword within the content are detected effectively. However, it only allows one keyword at a time in a free version (Rank Math allows five). For the premium version of All in One SEO, even the basic package can analyze unlimited Keywords (cost $49).
We prefer Rank Math's keyword analysis over All in One SEO.
ii. Readability Score
While Rank Math has two distinct sections for title and content readability, there's a limited analysis option. For title readability, it checks keywords, power words, and numbers. Rank Math only analyzes the table of content, paragraph length, and image number for content readability.
On the other hand, All in One SEO also has an impressive number of features for on-page SEO. It starts with a snippet Preview and further describes the post's title, description, and permalink. There are also 22 smart tags you can choose from. In addition, it can analyze the sentence length, passive voice, transition words, and subheadings. Also, there are detailed analyses for the topic.
All in One SEO tops the list while looking for quick improvement of on-page SEO score.
iii. Analytics Module
Both All in One SEO and Rank Math make it very easy to track all errors in Search Engine Optimization and SEO ranking. Additionally, they have a built-in feature for analyzing the ranked keywords from your dashboard. Meaning, there's no need for 3rd party analytics.
However, Rank Math stands best with its in-built integration for the Google Search Console.
iv. Position History
Wish to build a long-term SEO strategy? Then, Rank Math SEO is a helpful tool. Along with the ranks of new Keywords, Rank Math keeps the position history to track keyword performance over a long period. On the other hand, All in One SEO need an additional plugin (provided in premium version) for such feature. All in One SEO has some impressive features for SEO Audit, but you cannot save it for future reference.
v. Schema Generator
We must talk about Schema markup, which gives additional information to Search Engines and your visitors. Rank Math permits users to pick from 20 predefined Schema types. Furthermore, with an All in One SEO scheme generator, you can get more clicks and traffic through SEO rich snippets.
vi. XML Sitemaps
Any WordPress experts should already know how important XML Sitemaps are. As Rank Math can create XLM sitemaps compatible with Google's search engine automatically, you don't need any more effort for that.
All in one SEO also auto-generates an XML sitemap. It even notifies the search engine if there are any updates for the XML map for quicker ranking. All in One SEO even remove individual posts/ terms from your sitemap so that you can choose to focus on important content.
vii. WooCommerce SEO
For the e-commerce site, Rank Math has auto-optimization of the product page. Interestingly, such integration is available in the free version itself.
All in One SEO also has WooCommerce integration. Its advanced e-commerce support works for the optimization of product pages and categories.
viii. Link Management
Rank Math's advanced link management options allow different link management actions. In the free version, there are three link management options like
open links in a new tab
no-follow all external links
Set to sponsor
Thankfully, All in One SEO also has a great link management option. It suggests relevant links for the content and saves your time. All in One SEO also has a link counter to count the number of internal and external linking on each page/ post. However, there's no provision of advanced link control within All in One SEO.
ix. Auto Image Optimization
Rank Math can add missing alt attributes, title, description, and caption. In addition, we can add the default caption and description from the setting of a plugin. There are many other options for image optimization.
There's no such feature in the All in One SEO.
x. Keyword in Trends
Among many other great features of Rank Math SEO, we love its collaboration with Google trends. With a few clicks, you can quickly identify all the potential keywords people should be targeting.
All in One SEO lags in such treading keyword suggestions. You can either install a third-party plugin or get different analytical tools.
xi. Local SEO
Both Rank Math and All in One SEO are also popular for suggestions regarding Local SEO. It helps you rank higher in the social networks and search engine results.
xii. Social Sharing
Both plugins have the inbuilt social sharing option. The social media sharing option focuses on Facebook and Twitter for both.
You can explore many other social media options with All in One SEO.
4. Easy for Setup: Rank Math vs All in One SEO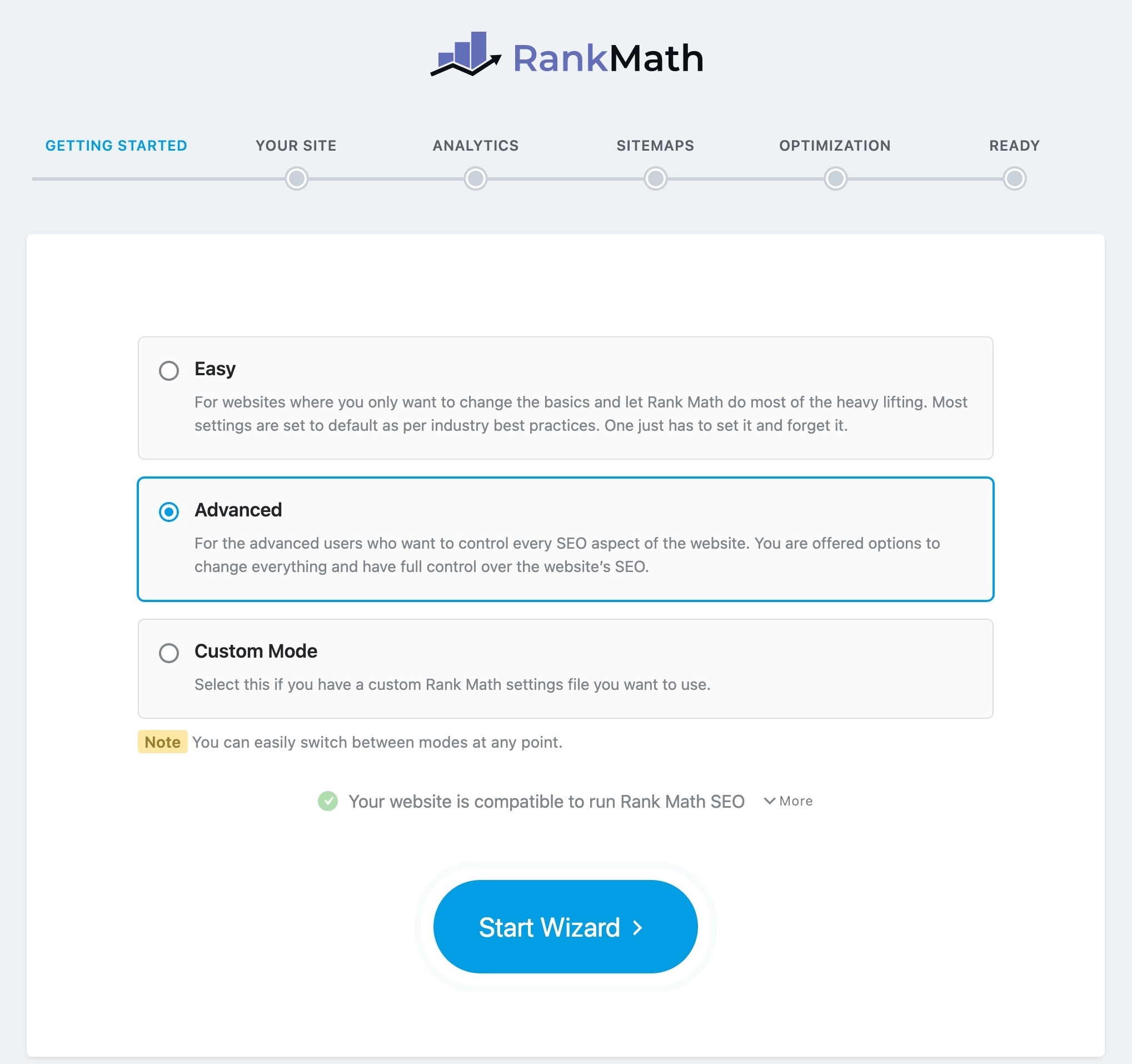 Rank Math has the 5-step setup wizard. While all process is relatively easy, it's a bit time-consuming. The new WordPress users can find it hard to understand at first. But you can quickly learn to use the setup wizard in a couple of minutes and then get started.
All in One SEO comes with a single-click installation and a smart setup wizard. It includes importing data, selecting various categories, enabling SEO features, and activating the site analyzer. So even the newbie WordPress user can easily set up All in One SEO and start using its features.
Of course, if you skip any action, you can modify the setting in the dashboard of both plugins.
5. Pricing for Free and Premium Version
Both Rank Math and All in One SEO have a robust free version. For the starter website users, the free version has impressive functionality. However, the experts working with multiple sites or those wishing for unlimited advanced features, Pro version of Rank Math and All in One SEO is a good investment.
Rank Math has three pricing options:
$59/ year for the Pro- package that supports unlimited personal website and tracks 500 keywords
$199/ year for the business package that supports 100 client websites and tracks 10,000 keywords
$499/ year for the agency package that supports 500 client websites and tracks 50,000 keywords
The premium version of Rank Math comes with a 30-days money-back guarantee.
All in one SEO also has an impressive free version and different types of premium versions.
$49.50/ year for the basic package for one site with the unlimited keyword
$99.50/ year for Plus package that covers the cost of almost 3 sites in total
$199.50/ year for Pro package that does overall SEO of the 10 sites
$299.50/ year for the Elite package the is responsible for optimization of over 100 sites
6. Support
Rank Math has impressive customer support for both premium and free versions. There's a support forum and Facebook group where you get answers to all the queries. In addition, the support team will be in service 24/7. Rank Math's excellent customer service has solved the 94% of cases.
All in One SEO also has excellent support for its users. Free users can resolve their issues with the public support forum at WordPress.org. Alternatively, they provide quick assistance for premium users. All in One SEO has solved almost 83% of cases, which is comparatively low.
There's a great team for the premium personal support via the support forum for both SEO plugins.
7. Verdict: Rank Math vs All in One SEO
All in One SEO is now in its 15th year of service and trusted by over 3+ million users. It is easy to set up, quick to use and delivers good features. On the other hand, Rank Math is only a couple of years old and already has over 1 million installations. It takes a bit longer to set up but has excellent features. The premium version of Rank Math for a personal website is cheaper when you have more than one site. For 59 dollars, you have Pro support for unlimited personal sites. On the other hand, All in One SEO costs 49 dollars only for a single website.
That being said, we love All in One SEO one-page analysis and ease of setup. On the other side, Rank Math stands out for many features like keyword research and analysis, schema generator and more. All in One SEO also lacks breadcrumb navigation while Rank Math's readability is less.
Which SEO plugin do you prefer among these? Let us know in the comments section.
You might also like: Rank Math vs Yoast SEO