When it comes to choosing the WordPress SEO plugins, the list is endless. Most of the WordPress SEO plugins promise to increase the website's visibility. Out of all of them, the top two picks are Rank Math and Yoast SEO. Yoast SEO is the most popular plugin, but Rank Math already goes above and beyond other top-rated SEO plugins.
Both the plugins offer a lot of features that help boost your website SEO. So, which one should you choose, Rank Math or Yoast? That's precisely what this article is all about. In this article, we're going to walk you through both the plugins so that you can pick the option that best fits your needs.
We'll start with an overview of each option. Then, we'll compare them in-depth in a variety of features, prices and more.

Let's get started with Rank Math vs Yoast SEO. Ready? Let's dive in!
A. Rank Math Overview
Rank Math SEO plugin, also known as "The Swiss Army Knife of WordPress SEO", is a free search engine optimization plugin that shows you how to optimize your content for better rankings in the search engines.
Launched in 2018, it currently has over 900,000 active installations and a WordPress rating of 4.9 stars. It also integrates with Google Search Console and various keyword ranking tools, giving you a leg up on the competition. It's also lightweight because you can easily disable the features that are not required.
The plugin is free to use; however, premium options are available, starting at $59. The Pro version includes a sophisticated Schema generator and allows up to 1000 keyword tracking.
B. Yoast SEO Overview
Yoast SEO (which is how you pronounce the creator's first name) was founded in 2010 by Joost de Valk and is a robust and user-friendly tool.
This plugin allows you to add your focus keyword and meta tags to your posts without writing a single line of code. It also assesses the readability of your writings and makes suggestions for improvement.
Yoast SEO is a free SEO plugin with limited functionality. You can upgrade to the premium version for $89 and use it on one side if you want more features. This unlocks advanced features like internal linking suggestions, a redirect manager, and much more.
C. Features of Rank Math
1. Easy Setup Wizard
Rank Math's configuration wizard triggers a five-step setup wizard that helps set up Rank Math without hassle. Rank Math's setup is relatively easy and has a clean design.
The setup wizard is differentiated between easy and advanced settings, making it easier for you to control your website's simple aspects.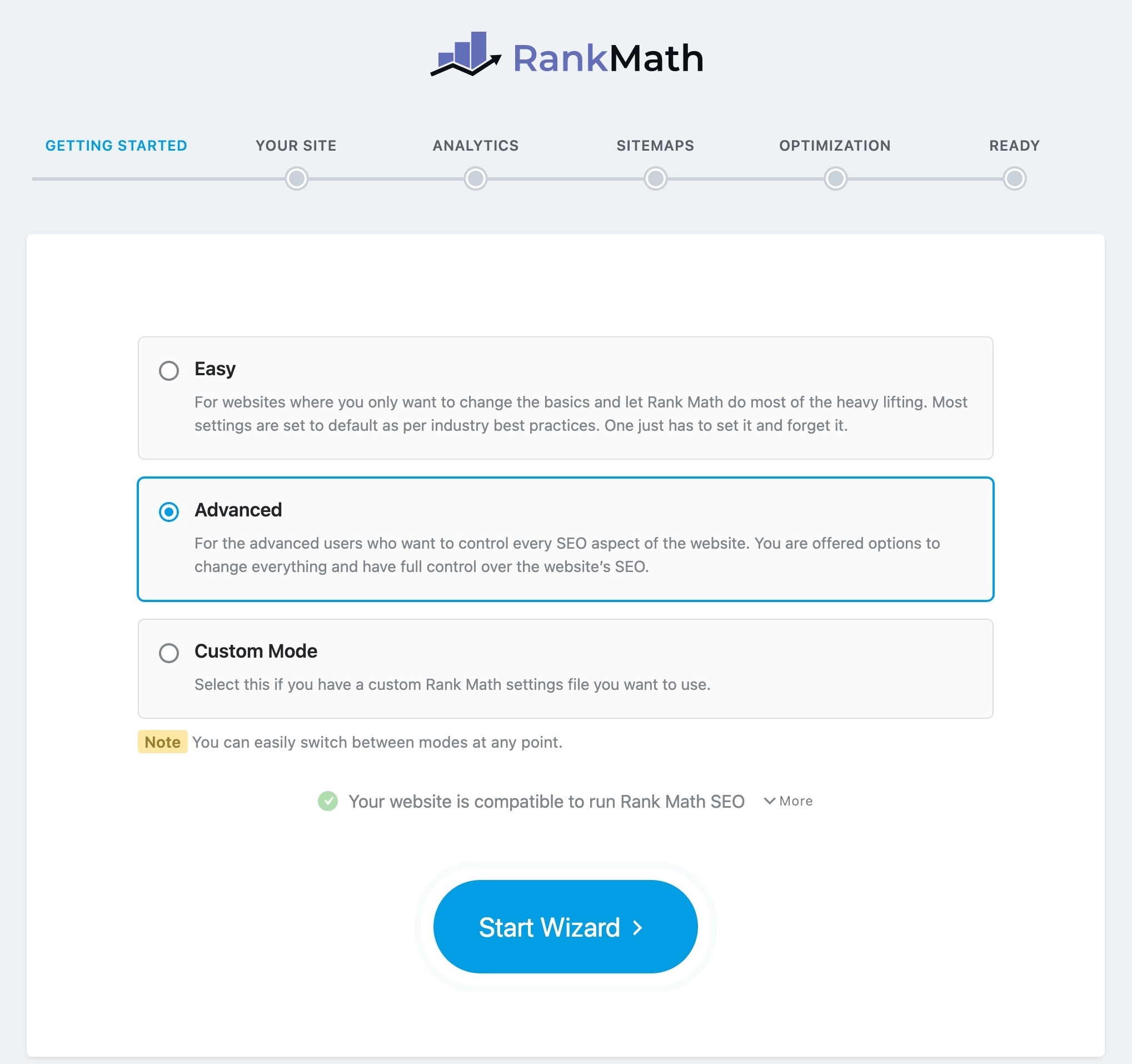 In the setup wizard, you'll configure the settings for your site, analytics, sitemaps, optimization settings.
Rank Math also offers you a choice to set up options that will unlock some additional advanced features such as:
Role Manager
404 Monitor and Redirections.
Schema Markup.
It's effortless to enable and disable features as Rank Math follows a modular approach.
2. Keyword Optimization
Any SEO plugin will let you optimize your pages and posts for a specific keyword. Rank Math and Yoast both offer good optimization techniques.
Rank Math allows you to assign five keywords to your posts by default. However, you can add unlimited focus keywords in its PRO version.
Rank Math requires you to put your keyword within the first paragraph and not the first sentence, and this is a clear indication that Rank Math follows updated benchmarks. Rank Math gives you keyword suggestions immediately after typing the keyword in the "focus keyword" textbox.
The PRO version also has a Google Trends feature that will bring up a graph displaying more relevant data on your selected keywords.
3. Schema Markup
One of the most compelling reasons to prefer Rank Math over Yoast SEO is its Schema Markup. Whether you're running a blog, a WooCommerce store, or a startup, you can use this plugin to implement Schema Markup efficiently.
If you're using Rank Math plugin, then you need not install any other plugin or tool to implement the Schema Markup on your website.
Why?
Because you can quickly choose from a list of 20 predefined Schema types, or use the Schema generator to use Schema templates or generate Custom Schema. From article Schema to review, product, job posting, book schema, and many more, structuring your data couldn't be easier with Rank Math. Rank Math SEO plugin offers full Schema support for any content available on your website.
4. XML Sitemaps
XML Sitemaps are essential for any website because they make it easier for the search engines to find your website's pages and help search engine crawlers discover and crawl all the pages efficiently.
Rank Math generates search engine compatible XML Sitemaps for your website automatically, and you can set what gets included and what doesn't without any hassle.
The sitemap settings for Rank Math are easy to locate, and you can easily configure the sitemap settings. Here's how the sitemap settings in Rank Math look like:
5. WooCommerce SEO
Rank Math's WooCommerce SEO helps you optimize your product pages and generate more sales. The user-friendly and compelling WooCommerce features make your site easier to rank high in the search engines.
Rank Math supports WooCommerce SEO within its free version. The paid version of Rank Math provides additional features delivering everything you'll need for your WooCommerce SEO.
6. Image SEO
Rank Math automatically adds alt attributes to images. This saves a lot of time as WordPress core has stopped adding alt text automatically.
Rank Math, as always, turns out to be a game-changer, and here's what the Image SEO settings in Rank Math look like:
7. 404 and Redirection Manager
It takes only a few seconds to set up redirects to fix all crawl errors on your website with the help of Rank Math's powerful redirection manager. Moreover, it's free!
Rank Math offers a simple and advanced 404 monitor. Not only does it record broken links on your site, but it also captures additional information about the error, such as the number of hits, access time, referrer, etc., which further helps to diagnose the issues faster.
8. Google Analytics and Google Search Console Integration
If you want your plugin to connect to Google Analytics and Google Search Console data, expect to pay for that option in Rank Math. You can integrate the Seach Console during the setup process in Rank Math. All you need to do is input and verify your Gmail account. It will automatically fetch the associated Search Console data in your WordPress dashboard.
You can get a bird's eye view of your search performance. Rank Math PRO's Analytics feature shows you a list of all the posts with a good score, fair score, and poor score. You can also make use of the Rank Tracker, track top 5 winning and losing keywords, and much more in its PRO version.
9. Link Management
Rank Math does a great job when it comes to link management. Rank Math is the only plugin with advanced link control settings that allow you to add default actions to all your links like open links in a new tab, nofollow all external links, etc.
D. Features of Yoast SEO
1. Easy Installation and Configuration
Like Rank Math, Yoast SEO also includes a configuration wizard to help you set up Yoast SEO on your site.
It has an eight-step setup wizard where you have to set up the basic settings like Site type, Organization type, Search engine visibility, Authors option, Title setting, etc.
The configuration wizard of Yoast SEO is easy to follow but is not differentiated between easy and advanced modes like Rank Math. The setup wizard has an embedded video guide which might be helpful for beginners.
2. Keyword Density
The free version of Yoast allows you to assign a maximum of one keyword to your posts. However, if you wish to optimize your content for multiple keywords, you must purchase the premium version.
The premium version of Yoast SEO allows you to evaluate keywords in various languages, present, and past tense, and single and plural word forms.
3. Flesch Reading Score
The Yoast SEO plugin for WordPress analyses your sentence structure and ensures that your posts are easy to read. Yoast uses Flesch reading score and rates your content on the score of 0-100. Yoast represents the optimization level of content in the form of green, orange, and red signals. It informs you whether your content is good or bad but doesn't score your content.
As a result, people will be able to assimilate the information more easily. It's essential to keep your audience interested, and this tool may help you do that.
4. Schema Markup
To implement Schema Markup in Yoast, you need to install a 3rd party plugin. Yoast supports structured data for FAQ & How-To boxes.
Yoast plugin creates a structured data graph for each page and post on your site. The graph informs Google what the different parts on your page mean and how they fit together.
5. WooCommerce SEO
Yoast's WooCommerce SEO helps you sell online by making your products easier to find on your website. You can get more buyers to your website by making your products stand out in the results. You can access more WooCommerce SEO features such as social media graph information, a cleaner XML sitemap, and more in its premium version.
6. Link Management
The internal linking tool of Yoast SEO saves your time by suggesting relevant links to your content. Yoast provides a text link counter that counts the number of internal text links from and to your post.
Yoast Premium has an Internal Linking tool that helps save your time by suggesting relevant blog posts you can link. However, unlike Rank Math, it doesn't provide advanced link control settings.
7. Redirect Manager
You have to buy Yoast SEO Premium to get a redirect manager and enjoy the redirect functionality. Like Rank Math, the redirection manager automatically creates redirects whenever you move or delete the content.
8. XML Sitemaps
Working with XML Sitemaps in Yoast is simple but involves a 4 step process. To locate the XML settings in Yoast, navigate to Plugin > General > Features > Click the question mark next to XML sitemaps, and there you go.
9. Social Sharing
The Yoast SEO plugin for WordPress also can promote particular pieces of content on social media. You can share the posts without these modifications; you can customize them for Facebook and Twitter by adding new graphics or writing unique captions.
The social sharing in Yoast allows you to customize your postings a little more, which may help engage your audience.
E. Pricing of Rank Math
Both Rank Math and Yoast SEO are freely available at wordpress.org. And both the plugins also offer premium versions with additional features.
Here's what Rank Math offers in its premium plans:
The Pro version is available at $59, and you can use it on unlimited personal websites and track up to 1000 keywords.
The Business version is available at $199 and can and track up to 20,000 keywords.
F. Pricing of Yoast SEO
Yoast SEO Premium version costs USD 89 for one site – including one year of free updates and support.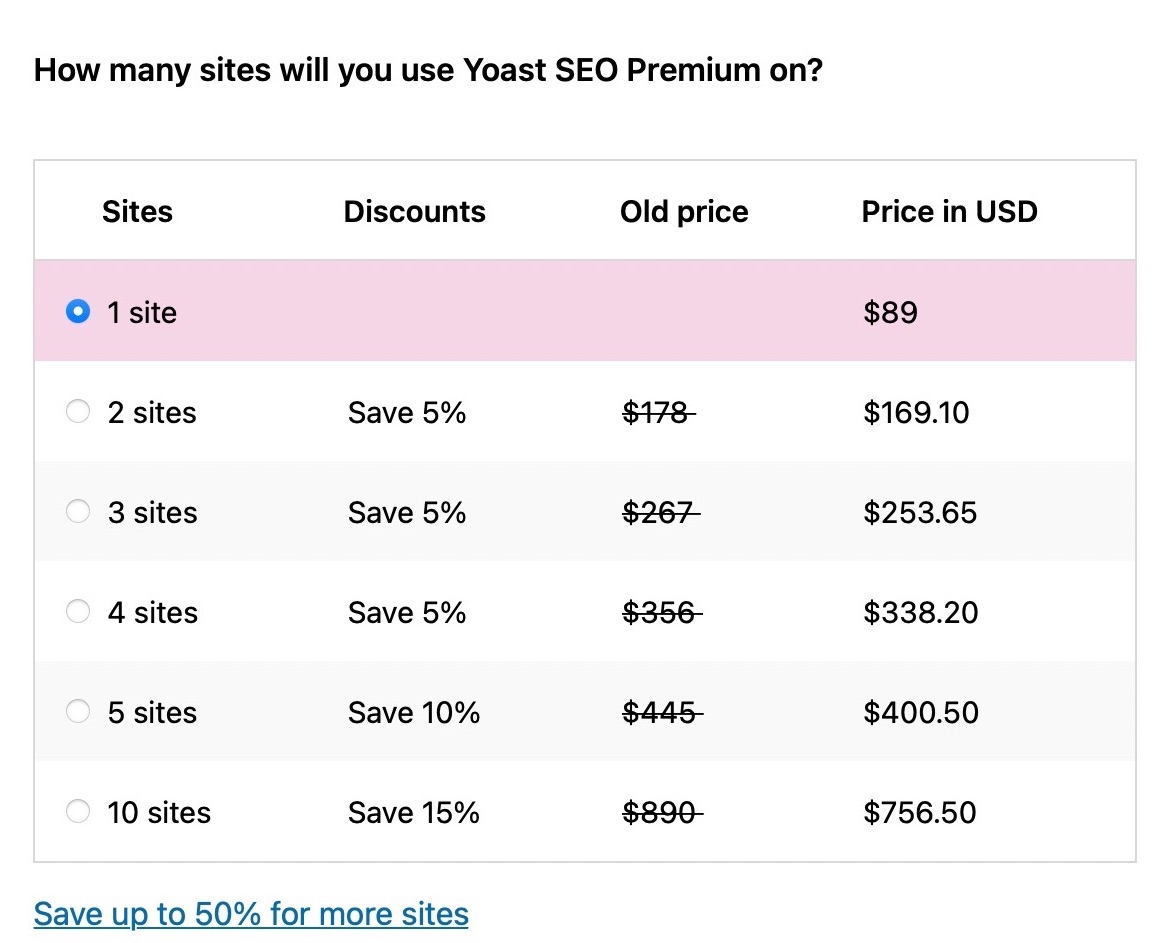 G. Support of Rank Math
For a completely free plugin, Rank Math has outstanding support. You can expect to get your questions answered in the Facebook Group almost instantly, and they also have a support forum for more technical queries. All the support requests are responded to with technical expertise at the earliest.
Rank Math has a proactive support team and is available 24/7, 365 days a year. They answer your queries instantly and provide solutions to your problems.
H. Support of Yoast SEO
Yoast SEO also offers good support, but it is available to its premium users. If you wish to contact the free support, you need to contact the support team of their free plugin at wordpress.org. Search for the specific Yoast plugin that you're facing problems with on wordpress.org, and in its search forum, you can discuss your issue.
Yoast SEO has introduced multiple ways of providing support, such as knowledge base articles, premium personal support, etc.
I. Conclusion
Rank Math offers many features in its free version itself and gives you the biggest bang for your buck. It uses powerful optimization techniques and makes it easy for you to optimize your content.
On the other hand, Yoast is a more popular plugin, with it being active on 5+ million sites compared to Rank Math being active on 900k+ active users. Rank Math offers more features even in its free version as compared to Yoast. Well, be it free or paid, Rank Math outranks the Yoast plugin.
Which plugin do you choose? Let us know in the comments section.