If I start with, "Today's world is all about technology and the internet", will sound really boring? We all know that, don't we?
The news that was once passed with a rolling paper on bird's feet is now instantly rendered to huge audiences via social media and blogs. Instead of leafing pages on an actual magazine or newspaper, audiences prefer reading news and gossips on their handheld devices.
But then, the looks of a real Magazine or newspaper encourage people to validate that unfounded information. As a publisher, it's not possible to write the entire magazine's information into the one-page site. It will not only be a hectic work for the publishers but also gives the cluttered and disorganized looks.
Thankfully, there are prodigious website templates that are well-designed to build an efficient magazine website. They not only show news in an organized manner but it's easy to get access to the visitor's eyes.
WordPress magazine themes should have a clean and functional design so that you can organize all your titles, contents, pictures and advertisement elegantly. It should highlight your important and latest content. In fact, these magazine themes should be designed to bestow a practical and solid framework for your magazine websites.
Thus, if you wish to create or redesign your magazine website, this collection of 20+ Best Free Magazine WordPress Themes is perfect for you. These templates are designed with clean code and stuffed with the best features for your news or online magazine.
The premium options of themes have tons of features, but they are not of a great option for beginners. The amazing ones are very experiences and the cheaper one does not bestow the needed features. As we understand that starting any blog is already hectic, adding expensive theme can even be harder. Hence, we assessed many themes and hand-picked a few that can be useful in your upcoming new sites. All of them are FREE.
So, let's go on with the list of 20+ Best Free Magazine WordPress Themes 2023:
1. ColorMag
Let's start with a bang. Our first theme, ColorMag is the world's #most_popular Magazine-NewsPaper WordPress theme with 100,000+ active installs. It is designed to fit for magazine, newspaper and blogging kind of sites. ColorMag is fully compatible with the page builder plugin as Elementor.
ColorMag provides separate space for advertisement, images, highlighted the post and featured posts. ColorMag ensures that their themes work in all modern browsers. Also, there are page templates that give you access to different pre-made styles and functions. You can also get the premium version of ColorMag with features as advanced typography, RLT support, multiple color option e.t.c
Features:
Woocommerce Compatible
Search Engine Optimization
Category Color Option
Magazine Style Design
Primary Color Option
15+ widget areas
Image advertisement widget
Featured category slider widget
2. Covernews
CoverNews is a clean and prodigious WordPress theme that is well-designed for online blogs and magazines. As Covernews is packed with all needed features, it can build awesome looking modern news journals, personal blogs, fashion magazines, vibrant news sites, travel blogging & magazine. It comes with custom widgets and live customizer options that help to design your website as you preview the changes live.
CoverNews looks equally beautiful on any screen sizes that range from small android to large Mac devices. It is also compatible with RTL language and Gutenberg along with the WooCommerce plugin. This means you can easily integrate any online business with your website. Even the free one has three different demos available. There are features such as Post Image Slider Widget, Post Carousel Widget, Post Grid Widget, Post Double Column Double Categories Widget, and Social Contact Widget.
Features:
Live editing in Customizer
Preloader Option
Logo and title customization
Featured Posts on Banner Section
Custom Widgets
Category Color Options of 3 colors
Author Biography
3. Default Mag
Default Mag is a responsive, clean and multi-layout theme for WordPress Magazine. It comes with a simple yet elegant look that will help to present your heavy content in an attractive way. With its multiple customization options and widgets, you can make your site's setup easy and elegant.
With its cross-browser compatibility, Default Mag will make your site eye-catching in any browser. There are different variations available for different devices screen size so that it looks perfect in each and every device. It allows One Click Demo Import so that you can download the demo data from and import manually. Also, it is SEO and Elementor Page Builder compatible.
Features:
Day and Night Mode
Logo and Title Customization
5 + Different Additional Widgets
Translation Ready
Preloader Option
Footer Widgets
Responsive Layout
4. Cream Magazine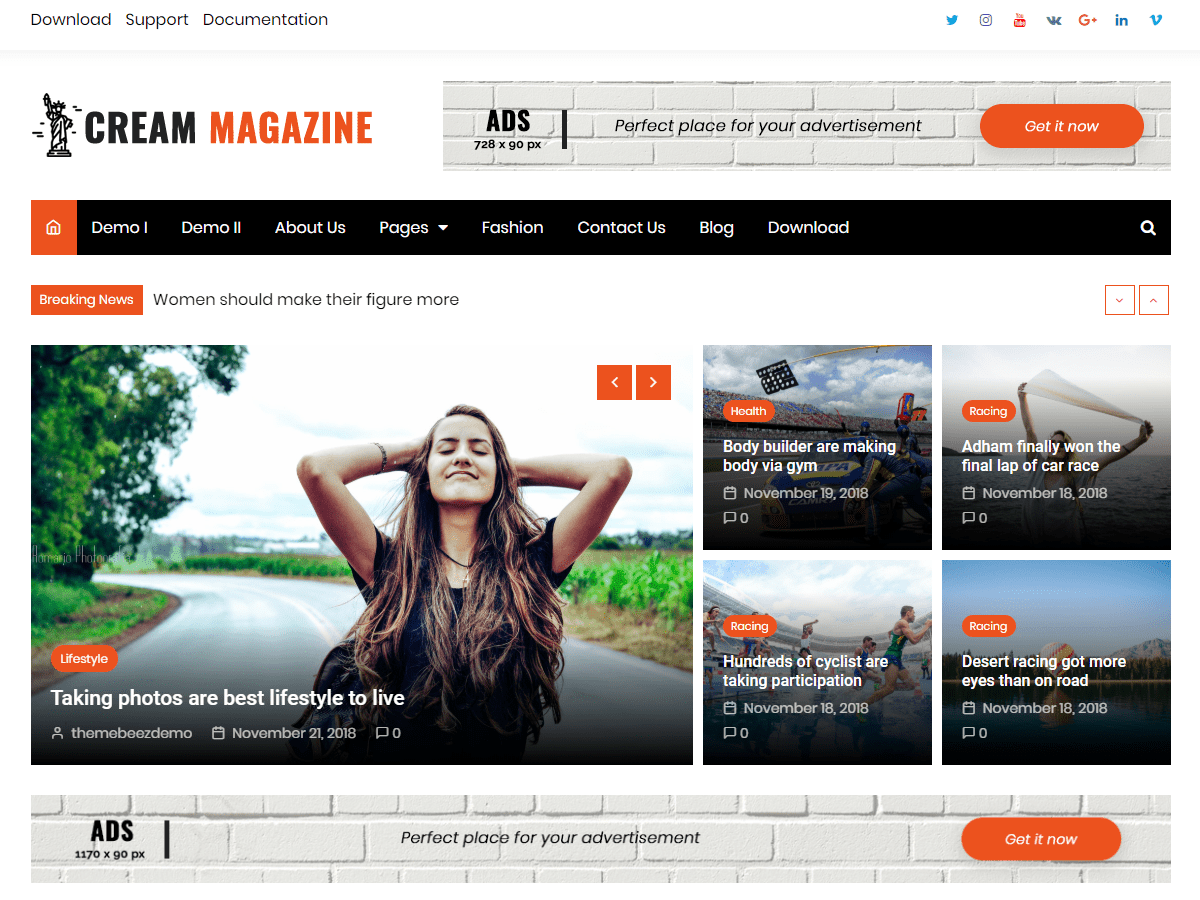 Either it's a News Portals, Online Magazine, Blogging, Online E-commerce Store or Online Publications; Cream Magazine fits perfectly. It's a news & magazine WordPress theme that has a modern design suited for everyone to share their stories/ thoughts or publish breaking daily news.
Cream Magazine is easy to deal with. Once you assign a front-page, you can build a stunning website through WordPress Live Customizer. Also, it recognizes the importance of SEO, Speed & Responsiveness. There are Build-in features that are usually only packed in the premium options such as lazy load for images to make your blog load faster even if you bundle extra library files.
Features:
News Ticker
Post Listing Layout Variations
Footer Widgets and Advertisement Areas
Built-In Social Sharing
Post Formats & Post Layouts
5. Bam
Bam is a well coded and documented WordPress theme that shows great flexibility with its multiple customization widgets. In spite of being a free theme, Bam has almost all of the advanced theme customizer options such as typography options, advanced color options, header layout options, social media options, blog layout options, etc. Just install the theme and customize it as you like.
It is responsive to mobile phones ( as per the source, in 2019/20 80% of the users launch to the internet via mobiles). Bam is well optimized so that you can rank your website at the top of search engines. Your visitors will also get outstanding support from the team during the time of difficulties.
Features:
3 different post layouts
Color options
Footer widget
Live customizer
Header layouts
Typography options
6. NewsCard
NewsCard is a Multi-functioning Magazine/News theme that is specially designed for magazine sites such as food, music, health, travel, fashion, sports, and photography; shopping sites; news sites; personal blog and many more.
Some markable benefits of NewsCard are Front Page Template, Top Bar, Sidebar Page Layout, Header for Image/ Advertisement, Banner Slider and Social Profiles. Also, it is fully compatible with popular plugins such as bbPress, WooCommerce and Contact Form 7. And the best- it is translation ready.
Features:
Bootstrap Framework
bbPress Compatible
Child theme Compatible
Built-in Customizer
Incredible Support
Featured Slider
Multiple Layouts
7. Minimal Grid
Do you want total freedom on your content to enrich the user experience without making it looked boring? Well, who doesn't?
Minimal Grid manages everything to make your site look minimum, clean, elegant and responsive. It's the Gutenberg-supported theme that is suitable for news, entertainment, magazine, and any blog websites. Minimal Grid's clean layout post listing options along with support for different post formats that allows you to experience freedom on the content. It is also a WooCommerce Plugin compatible and has an easy Google Adsense connection. This theme also has Language Packs of Spanish and Polish attached to it.
Features:
Live editing in Customizer
Typography style and colors
Responsive Layout
Author Biography
View Related Post
Google Adsense
Preloader Option
8. FreeNews
FreeNews is an elegant, modern WordPress theme to build professional websites for all kinds of magazine, newspaper, publishing, blog or review sites. It allows quick promotion access with its social media icons so that you can reach the maximum target audience in a short time. Also, there is a responsive slider that will impress your visitors with lively eye-catching images on your banner section.
FreeNews is well optimized so that you can rank your website at the top of search engines. You will also get exceptional support from the author if you find any complications to use this theme.
Features:
Responsive Performance,
Cross-browser compatible,
SEO friendly and RTL support
Responsive slider
Sticky Menu
Author Biography
View Related Post
9. Magazine Power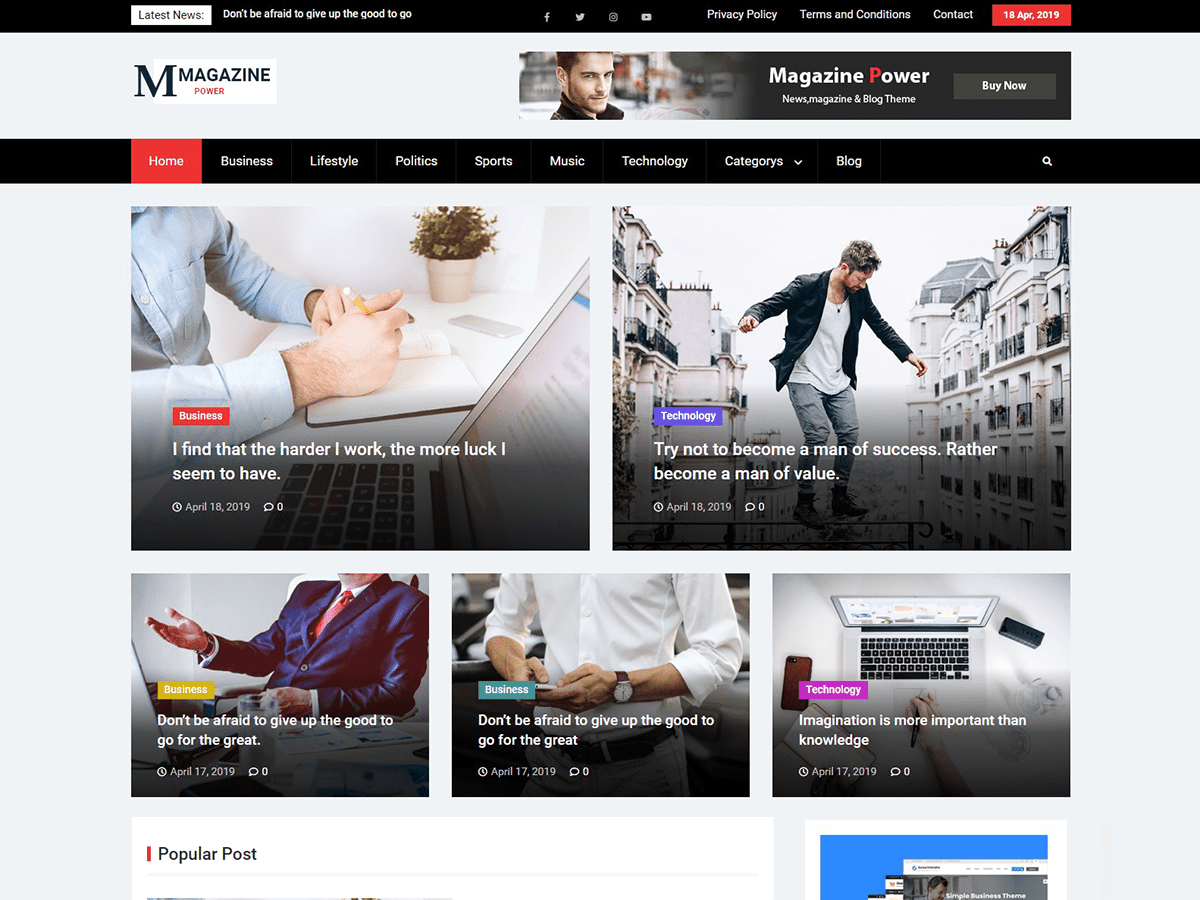 Magazine Power with a responsive design serves as a purposeful WordPress theme. It provides a creative outlook that is focused on news portal and magazine sites. Magazine Power helps to display your site's content in a way that is organized, attractive, and elegant.
Magazine Power has plenty of unique features packed to make it a concrete choice for your website. It gives you sample demo content, head-start, and one-click import feature. The theme is cross-browser and responsive that makes your site eye-catching in any browser types devices screen size. It also allows logo and title customization to attract your customers.
Features:
Theme Options
Sticky Primary Menu
4 Front Widget Area
Custom Menu
4 Layout Options
Author Bio
10. Magazine News Byte
Magazine News Byte comes with unique features and options to help you create powerful content-driven news and magazine websites. This theme is SEO optimized and works with Contact Form 7, Jetpack, Google Maps, Page Builder like Elementor and various other plugins.
It has an Image & Post Slider to make your site look elegant. It is Translation Ready which means you can easily use a plugin to translate the theme into your local language. Magazine News Byte performs prodigiously, all thanks to it's powerful, lean, consistent, and bloat-free code.
Features:
Custom Widgets
Responsive & retina ready
991 Icon Fonts
Boxed and Stretched (Full Width) Site Design
Multiple Logo Options
eCommerce Ready
Multiple Sidebar Layouts
11. NewsMag
Newsmag is a modern magazine and news theme. This theme will make your website adaptable even on a smartphone or tablet. It's a fully Responsive, easily customizable and Search Engine Friendly WordPress Theme that uses Microformats, Twitter Bootstrap 3, and Font Awesome icons. It also allows you to add Google maps and Contact Form to contact page.
NewsMag Widgetized Sidebar where you have an unlimited number of Widgets in each Sidebar and Footer Column. There are tons of features such as Custom Colors, Google Fonts, Custom Background Support, Dynamic Widgets, Custom Menu (1 Level on footer, 3 Level on Header), Slider, Different Blog Page, Responsive Video, Redux Framework, Post Formats, Popular Posts Widgets e.t.c which are only available in premium options. But here, it's FREE.
Features:
4 different blog page style
3 different block styles,
Featured post banner
Advanced custom fields,
Custom front-page settings,
Four columns footer widgets area
12. Viral News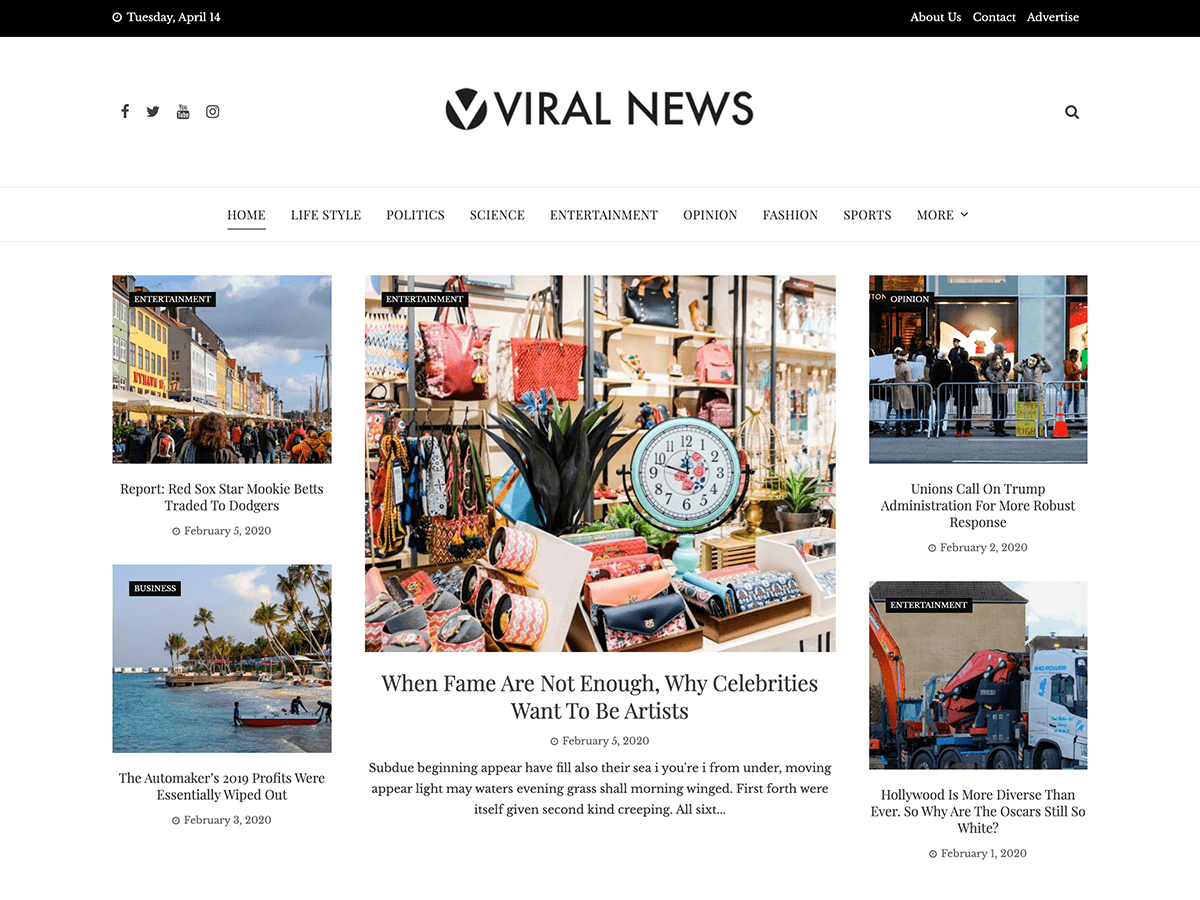 Viral News WordPress theme is a clean and beautiful theme perfect for news portals, magazines, blogs, and any publishing websites. It is loaded with 10 beautifully designed layouts to provide your website with a professional look. Additionally, 5 widgets that come with Viral News help your users to provide easy reading experience.
Furthermore, this theme has repeatable drag and drop modules which helps you to create the design in the way you want. Viral News WordPress theme is a translation ready which also focuses on Search Engine Optimization. This highly customizable WordPress magazine theme is developed by Hash Theme who provides you quick and reliable support if you need any help.
Features:
Drag and drop sections
5+ ready-made widgets
SEO & Translation ready
Inbuilt news ticker
Unique banner layouts
13. Accesspress Mag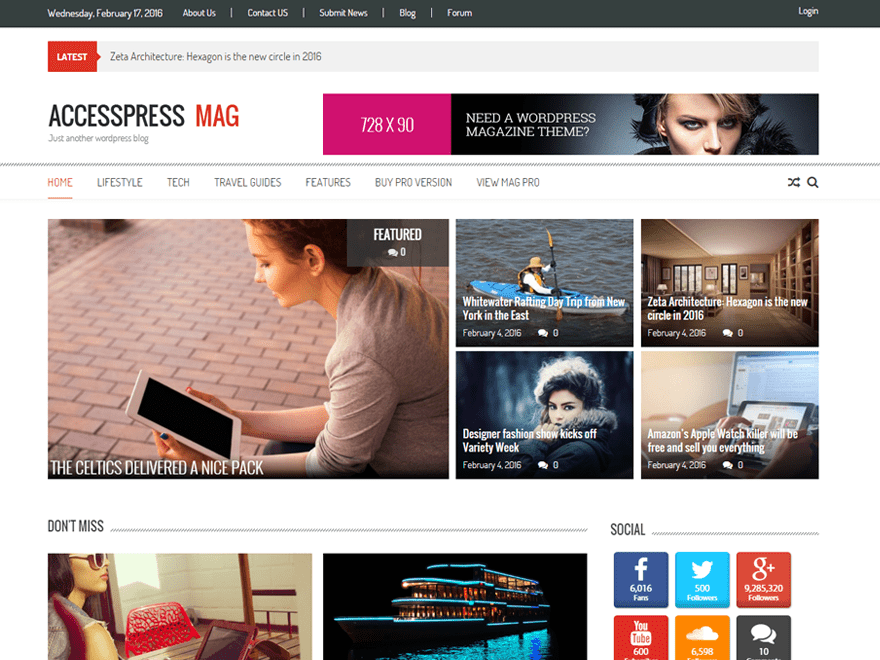 AccessPress Mag is a stupendous theme with great flexibility & modern looks. It is a responsive and SEO friendly WordPress theme that is perfect for news websites, online magazines, editorial related projects or personal websites.
It is ideal, a cutting edge solution for bloggers, designers, journalist and SEO specialists who wish to lay strong online presence with impressive site design and content. The few markable features are 2 post layout, large featured images for page/post, author block and social media integration that allows wider social reach.
Features:
A Fully Magazine homepage
Post view and comments counts
Responsive ads with Google Adsense
CSS3 Animations
Built-in review system
Beautiful article page
14. Mega Magazine
Mega Magazine is a colorful, modern, clean, and responsive magazine theme. Mega Magzine can be used for magazines, sports, news, publishers, technology, blogs, food, travel, newspaper, news portals, editors, informative and other creative websites. It uses the WordPress Customizer options that allow you to change different slider posts from the category with an appealing look.
It's a translation-ready theme which means you can easily use a plugin to translate the theme into your local language. Mega Magazine has an image & Post Slider to make your site look elegant.
Features:
Responsive Layout
Advanced Post Options
Elegant Design
Easy to use and customize
Boxed & Wide Layout Option
Category based color selection option
15. News Portal
It's the ultimate magazine theme that has the best design and powerful features that lets you quickly and easily create a stylish website that suits your needs. News Portal is completely built on Customizer that permits you to customize the theme settings along with a live preview.
News Portal is a fully widgetized theme that allows the users to manage the website with the use of multiple widgets. Basically, it's the best choice to create a Powerful and Beautiful News/ blog/ magazine websites with ease. It gives you sample demo content, head-start, and one-click import feature.
Features:
Retina Ready
Highly Customizable and Quality Code
Widget based layouts
Multiple category color
Multiple Color Scheme
Awesome Support
16. Metro Magazine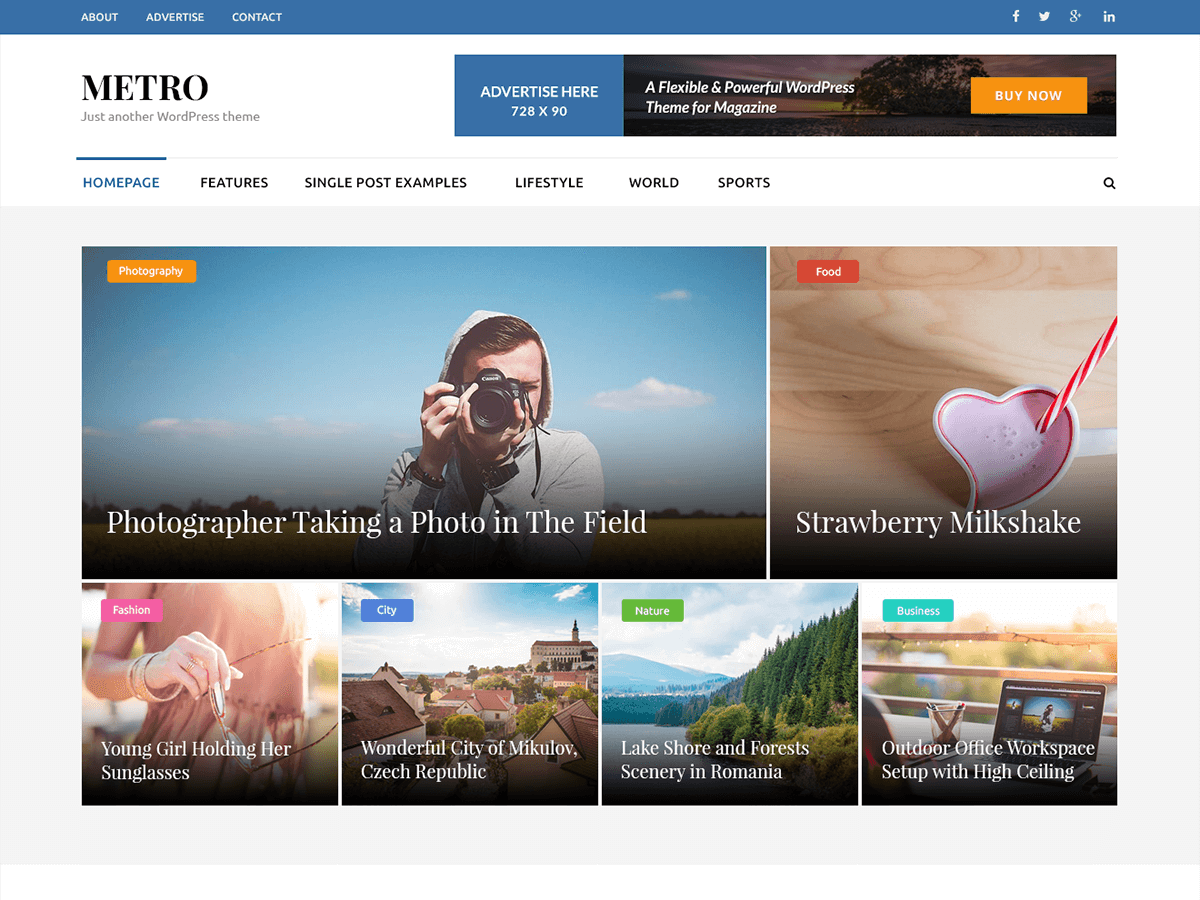 Metro Magazine is a modern and responsive magazine style WordPress theme that can be used for all kinds of newspapers, food, travel, blogs, magazine, sports, technology, publishing, business and any kind of sites.
It is built on Customizer that allows quick customization of your website with live previews. It has a wide number of color options even with the free version so that you can change the look and feel of your site with a click. It has a header layout, featured section layout, top section layout, middle section layout, and four category section layouts. Also, it is noticeably fast due to its minimal codes.
Metro Magazine is SEO friendly that would help your site to get a top position on Google search. And most importantly, it has advertisement settings that allow you to post the ads in a way that visitors get attracted to it. Lastly, it is transaction-ready for any language.
Features:
Color scheme
Speed Optimized
Social media integration
Custom widgets
Author Bio
Breadcrumb
17. Mantranews
Mantranews is an elegant looking, responsive news portal designed free WordPress theme. This theme is applicable for any online magazines, personal blogs, newspaper, publishing, and any other kind of news sites. Mantranews is a fully widgetized theme that allows users to manage the website easily. The few things to mark about Mantra news are import demo data, category colors options, primary color options, 7 custom widgets, and six social icons.
Mantranews is well optimized so that you can rank your website at the top of search engines. Users of this theme will also get outstanding support from the team during the time of difficulties.
Features:
Translation Ready
Featured Category Slider
Carousel Widget
Home Page Template
Header Options
Footer Options
18. Glob
Glob is a highly flexible, simple and clean responsive WordPress theme that is perfect for any news website. This theme features a theme customizer where you can quickly change any aspects of the design using a built-in customizer.
Glob is also optimized for SEO so that you can stand out from the crowd. The author of this Glob theme ensures that their theme works in all modern browsers. Also, there are page templates that give you access to different pre-made styles and functions. Further, they use the latest advanced functionality available with HTML5 and CSS3. It is also well-intergraded with all kinds of plugins that are necessary to function your website well.
Features:
Theme Customizer
SEO Optimized
Browser Compatibility
Complete Localization
Custom Theme Widgets
HTML5 and CSS3
Custom Page Templates
Top-Notch Support
19. MH Magazine Lite
It's among the most downloaded free responsive newspaper, magazine, news, and blog themes for modern dynamic news websites, professional blogs, online magazines, and other editorial websites. This MH Magazine Lite is secure, SEO friendly and fast.
Also, you can get the premium features to gain access to awesome features, flexible custom widgets, and other useful options. You have a different section for videos, old news, new news, and breaking news. The front page looks elegant with full-page slider images. Also, it is known for its flexibility. This means you can create a professional news website with the MH Magazine Lite.
Features:
Code Quality
Responsive Layout
SEO Optimized
Fully Widgetized
Custom Widgets
Translation Ready
Compatibility
Free Updates
20. Madd Magazine
Madd Magazine is a fully responsive and unique theme for any type of newspaper, magazine, or professional blogs. It has a build-in responsive slider that includes an image or video option. Also, Madd Magazine comes with left and right sidebar. It is simple to use with easy settings and coded magazine theme for the professional bloggers. It is fully responsive, SEO friendly, and lightweight that gives your website a professional look.
It is built on Customizer that allows quick customization of your website with live previews. It has a wide number of color options even with the free version so that you can change the look and feel of your site with a click.
Features:
Multiple tabs options for the widget
SEO Friendly
Code Quality
Responsive Layout
Carousel Widget
Home Page Template
21. Magbook
Magbook is a WordPress theme that is exclusively coded for newspaper, blog, magazine, publishing, or review websites. It has fully responsive, clean, super flexible, amazing new features designs. Its complete 1-click website demos and lifetime free updates are the features you don't wanna miss.
Magbook has many unique features such as multiple Layouts options and Smart Sticky Navigation. Also, it has popular plugins integration such as Breadcrumb NavXT, Woocommerce, bbPress, Jetpack by WordPress.com, Polylang Contact form 7 WP-PageNavi and many more. It consists of Contactus Template, Widgets, Sidebar and Gallery Template Magbook Template.
Features:
Cross-Browser Compatible
Multiple Layout
Responsive Design
SEO Friendly
Social Media Integrated
WooCommerce Compatible
Color Options
Theme Freesia Demo Import and Setup Available
22. Kontrast
Kontrast is a 100% high-resolution theme for magazines. It's unique toggle sidebars presents awesome browsing and reading experience to the visitors on both tablet and mobile. The feature list can go long- Unlimited accent colors, 0-2 sidebars to the left or right which can be uniquely specified for each page or even post, unlimited widget areas, 300px / 220px fixed width sidebars, almost zero layout images, 0-4 footer widget columns, featured story or slider, related posts and post nav, 10 post formats, 2 flexible custom widgets, good SEO, localization support, logo upload, social links, and many more.
Can you imagine getting all these features for FREE? That's amazing, isn't it?
Features:
Toggle fixed-width sidebars
Related posts & post nav
Boxed layout
Footer & header ads
Standard post style
Featured story or slider
TO SUM UP:
We have reached the end of today's list. There are thousands of other themes in the market. Obviously, each one of them promises the best design, effective optimization, and great features. But all of them cannot meet your expectations. Thus, we have spent days picking the best one for you and included them above.
This collection of 20+ Best Free Magazine WordPress Themes will help you to find the best theme for your magazine and blog sites. I hope you have enjoyed reading the article and choose the one that will actually be useful for your requirement. Pick any one from the list and your online magazine is ready to roll.
The WordPress world is growing very fast. So, there might be many other awesome free magazine WordPress themes that have packed tons of features. If you know any of those cool WordPress themes, do share in the comment below.