If you're looking for the best reCAPTCHA plugin for your WordPress website, then this post is for you.
We know running a website isn't a cushy job at all. Alongside many other things, website owners have to keep an eye on spammers and bots.
If left ignored, both spammers and bots would create havoc on your site. We mean; complete destruction. This is the reason why these two have become such a headache for all the site owners out there.
So, is there any solution? Yes, reCAPTCHA is the answer. Long story short, you've to add reCAPTCHA to your WordPress site. But how? It's simple; you've to install a reCAPTCHA plugin. Only then you can stop them from entering your site once and for all.
The good news is that we've come up with the collection of 10+ best reCAPTCHA plugins after extensive research.
Ready to see these plugins in action? If you're, then let's dig straight in!
A) What is Google reCAPTCHA?
CAPTCHA stands for 'Completely Automated Public Turing test to tell Computers and Humans Apart'. There are different types of CAPTCHA available, one of them is a reCAPTCHA.
Some of the other CAPTCHA types are; math CAPTCHA, text CAPTCHA, puzzle CAPTCHA, and many more. Unfortunately, with time bots have become clever enough to enter a website and perform inappropriate activities.
To eliminate this problem, the CAPTCHA system was introduced. Basically, reCAPTCHA is a CAPTCHA system that distinguishes humans from bots.
It's a free service provided by Google that uses advanced risk analysis to protect your WordPress site from all kinds of attacks or threats.
B) Why You Need a Google reCAPTCHA on Your WordPress Site?
A reCAPTCHA can be useful to prevent any kind of malicious threats and bot attacks.
Basically, these are computer programs designed to attack your websites with fake requests and messages. Much worse, this can put an extreme load on your servers. And as a result, your website will slow down gradually.
They're even responsible for stealing confidential information and hurting the SEO rankings.
So, knowing how dangerous it can be, adding Google reCAPTCHA on your site is a must. It acts as a 24/7 guard, giving you solid protection from all intruders; not letting them enter your website.
On top of CAPTCHA protection, you need a secure web hosting service. In fact, site security largely depends on the type of web hosting you're using. Hence, always choose a web hosting plan with adequate security features in it.
With that said, let's check out the best reCAPTCHA plugins for WordPress.
1. Advanced Google reCAPTCHA
Are you looking to get rid of spam comments and brute-force attacks; for like forever? If yes, then Advanced Google reCAPTCHA can be handy for you. Using it, your website will be fully protected from spam comments, brute-force attacks, spam registration/logins, and other such activities.
Another exciting thing is it works charmingly well with login, registration, comment, BuddyPress, and other forms. In addition, this plugin is jam-packed with features so that your site becomes spam-free. And that will ultimately make you worry-free!
Key Features:
Supports both reCAPTCHA version 2 and version 3
Works well with login, registration as well as comment forms
Secures your online store from unnecessary registrations and logins
Compatible with all the WordPress themes on the market
No need to be tech-savvy to use this plugin
Pricing:
This plugin won't cost you money, it's free of cost. You can download it by visiting the plugin's official landing page. Or you can directly install it into your website from the dashboard as it's also available on the WordPress.org plugin repository.
2. ReCaptcha Integration for WordPress
ReCaptcha Integration for WordPress, as the name suggests, allows you to integrate reCAPTCHA into your site. This plugin kicks away spammers and bots if they try to submit unwanted data in your form.
The best thing about it is; it supports both new as well as old-style reCAPTCHA. You can add the Google reCAPTCHA checkbox on different forms like user registration, login, reset password, comments, etc.
Key Features:
Protects your login, signup, and comments form with a reCAPTCHA
Supports no CAPTCHA and old-style reCAPTCHA
Supports WP Multisite, bbPress, BuddyPress, AwesomeSupport, WooCommerce, etc
Translated into multiple languages; Brazilian, Portuguese, Spanish, Italian, and German
Pricing:
It's a free reCAPTCHA plugin. You can download it from the WordPress.org plugin's directory.
3. ReCaptcha v2 for Contact Form 7
ReCaptcha v2 for Contact Form 7 is another popular reCAPTCHA plugin with 200K+ active installs. Making your forms spam-free is not a tall task anymore, all thanks to this plugin. Now, here's the thing that you need to understand.
After the release of Contact Form 7 v5.1.0, the old reCAPTCHA version 2 was disabled. This plugin brings that same functionality again from Contact Form 7 5.0.5. And it works smoothly with the re-addition of the [recaptcha] tag.
Pricing:
You'll get this plugin for free of cost from the WordPress.org plugin's directory.
4. Simple Google reCAPTCHA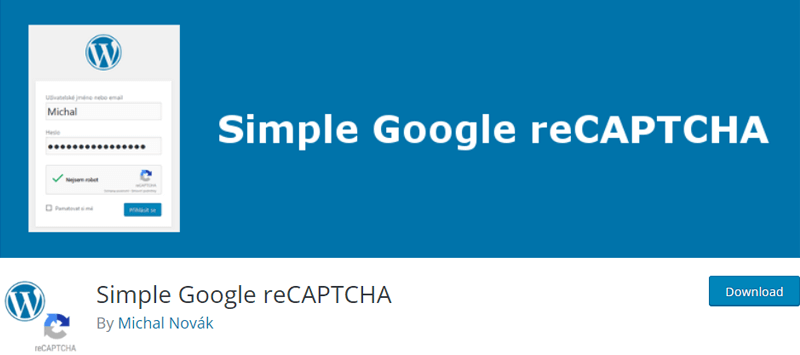 Simple Google reCAPTCHA truly lives up to its name, as it's simple and easy-to-use with no ads or tracking. This plugin adds a layer of protection from spammers and brute-force attacks. So, no more threats to your site again!
You are free to choose between the reCAPTCHA v2 checkbox and the new reCAPTCHA v3. Furthermore, you can add Google reCAPTCHA on login, registration, reset password, comment, and new password forms.
There are various solid reasons to pick this plugin. First and foremost, it works perfectly in those countries where the Google domain is blocked. Similarly, it gives you the ability to replace the reCAPTCHA v3 badge with text.
Pricing:
Simple Google reCAPTCHA is free.
5. Login No Captcha reCAPTCHA
Login No Captcha reCAPTCHA completely eliminates the spam and bots from entering your site. This fantastic plugin adds a Google No CAPTCHA reCAPTCHA checkbox to your WordPress and WooCommerce login. Not only that, you can add it to even forgotten password and user registration pages.
One of the most important aspects of this plugin is it restricts access to automated scripts. And at the same time makes the path easy for humans to log in by checking a box. Plus, it supports multiple languages.
Pricing:
Login No Captcha reCAPTCHA won't cost you a penny, it's completely free.
6. reCaptcha by BestWebSoft
reCaptcha adds a protective shield to your WordPress website forms. It makes the road challenging for spammers and bots while real humans can pass through with ease. Users have to simply confirm that they're not a robot by checking a box just ahead of form submission. That's it!
You can add this plugin to your login, registration, password, recovery, comments, and other forms.
Key Features:
Ability to hide reCAPTCHA for certain IP addresses
Supports reCAPTCHA version 2, version 3, and Invisible reCAPTCHA
Hide reCAPTCHA in your forms for a specific user role
Light and dark reCAPTCHA version 2 themes
Tons of step-by-step documentation and videos
Multilingual and RTL ready
Pricing:
The core reCaptcha by BestWebSoft plugin is free. More advanced features come up in the premium option. The Annual package comes at $24 including all the premium features. The Membership package of $250 provides you with all the premium plugins. For lifetime use you have to spend $210.
7. CAPTCHA 4WP
The developers behind CAPTCHA 4WP is a European development company known for creating top-notch WordPress security & admin plugins. Additionally, this specific plugin is trusted by over 200K website owners to protect their sites from all kinds of attacks.
Using this plugin, you can implement CAPTCHA to any form; user registration, lost password, comments, login, etc. And this doesn't end here; you can also add it on the WooCommerce checkout page with ease.
Key Features:
Freedom to choose between different types of CAPTCHA (v2 I'm not robot checkbox, v2 invisible or v3)
Assign CAPTCHA passmark score
Detect the site visitor's language and display CAPTCHA in that language
Customize the CAPTCHA properties, like theme, size, badge location, etc
Ability to add a CAPTCHA on PHP forms too
Pricing:
CAPTCHA 4WP is a free plugin. However, you need to buy its pro version for the best features. The Professional package comes in $24.99/per year for a single site license. And the Business package costs you $29.99/per year with all the incredible features.
8. Contact Form 7 Captcha
Save your WordPress website from spam and abuse with the Contact Form 7 Captcha plugin. With it, you can add Google reCAPTCHA to the Contact Form 7. The basic function of this plugin is to implement the 'I'm not a robot' checkbox on the forms.
It's an easy test to surpass for a real person, whereas it's just the opposite for the bots. And most importantly, it can be used to secure multiple forms on a single page. For more information regarding setup and use, you can look at the plugin's description.
Pricing:
It's free of cost.
9. Login Security reCAPTCHA
Login Security reCAPTCHA is a security plugin to keep bots and brute-force attacks away from your site. It integrates Google reCAPTCHA to protect login/registration, lost password, and comment forms.
The remarkable thing is that you don't have to adjust too many settings to use this plugin. Moreover, upgrading to the premium version offers you features like role-based redirection, limit login attempts, etc.
Key Features:
Supports Google reCAPTCHA version 2 and version 3
Protects spam comments and brute-force attack
Monitor failed login attempts as well as error logs
Pricing:
The core plugin is free. However, for stunning features, you need to purchase a premium license. And it comes at the price tag of $25 (one-time payment) for a single site license.
10. WordPress Captcha Plugin by Captcha Bank
Captcha Bank is a simple and intuitive plugin that adds an extra layer of security to your WordPress site. Or in other words, we can say it's a full-proof CAPTCHA validator. Using it, you can present reCAPTCHA in your WordPress forms like login, registration, comment, etc.
Alongside Google reCAPTCHA, it includes various types of other CAPTCHA such as text CAPTCHA and logical CAPTCHA.
Key Features:
Supports WooCommerce, BuddyPress, and Contact Form 7
Block the IP Addresses that crosses the maximum login attempts
Customize the CAPTCHA to look in the way you want
Supports Google reCAPTCHA V2 and Invisible Google reCAPTCHA
Block the IP Addresses of unwanted users
Translated into multiple languages
Pricing:
The core plugin won't cost you money unless you upgrade the plan. Its Pro package costs $29.99/year that covers unlimited sites. Similarly, the Developer package comes in $69.99, whereas one can buy Agency package for $99.99.
11. UsersWP – ReCaptcha
UsersWP ReCaptcha is known for providing the most brilliant anti-spam security to your WordPress forms. Today, we often see bots trying to act like real humans and do violent activities by entering one's site.
This plugin completely stops them from doing such damage to your site. Basically, it protects from any kind of spam and malicious registrations.
Pricing:
Free. To download it you need to navigate to the WordPress.org plugins directory.
12. reCAPTCHA (v2 & v3) for Asgaros Forum
Are you searching for a reCAPTCHA plugin for Asgaros Forum? If yes, then you can rely on reCAPTCHA (v2 & v3) for Asgaros Forum.
This plugin is built especially to work with your Asgaros Forum enabled WordPress site. Using it, you can easily integrate either Google reCAPTCHA v2 or Google reCAPTCHA v3 on your Asgaros Forum. Above all, it's easy to use and work for both guest and logged-in users.
Pricing:
This plugin is free of cost.
13. reCAPTCHA for WooCommerce
reCAPTCHA for WooCommerce is the premium plugin that makes sure your site is in safe hands. This plugin adds Google reCAPTCHA on login, register, and lost password forms. But there's even more!
One of the most common issues store owners face from time to time is spam purchases. To prevent this, you can secure your checkout page by adding Google reCAPTCHA.
The beauty of this plugin is you can add multiple reCAPTCHA on a single page with ease.
Key Features:
Easy to use and customize
Set error message on your own
Various themes and sizes for reCAPTCHA
Looks perfect on mobile devices
Translate reCAPTCHA on your desired language
Pricing:
reCAPTCHA for WooCommerce is a premium plugin. You can purchase it by paying $20 from the CodeCanyon marketplace.
C) Summing Up
There you go! We believe that these descriptions and features along with the pricing of each reCAPTCHA plugin, helped you decide the ideal one. We've shortlisted these plugins after hours of research. And only after that, we've included them so that you get the best of the best.
So, you're free to choose whichever you like from the list. And your site will be shielded from all the unnecessary attacks, guaranteed. Feel free to leave a comment below if you've any questions.